During the past two-and-a-half years, TACO invested heavily in Quality Control and Engineering – adding more state-of-the-art equipment and tools to our processes while also expanding these teams. As part of our 60th anniversary, please join us in recognizing the outstanding men and women in these departments – all of whom have made a tremendous positive impact on our internal processes and finished products.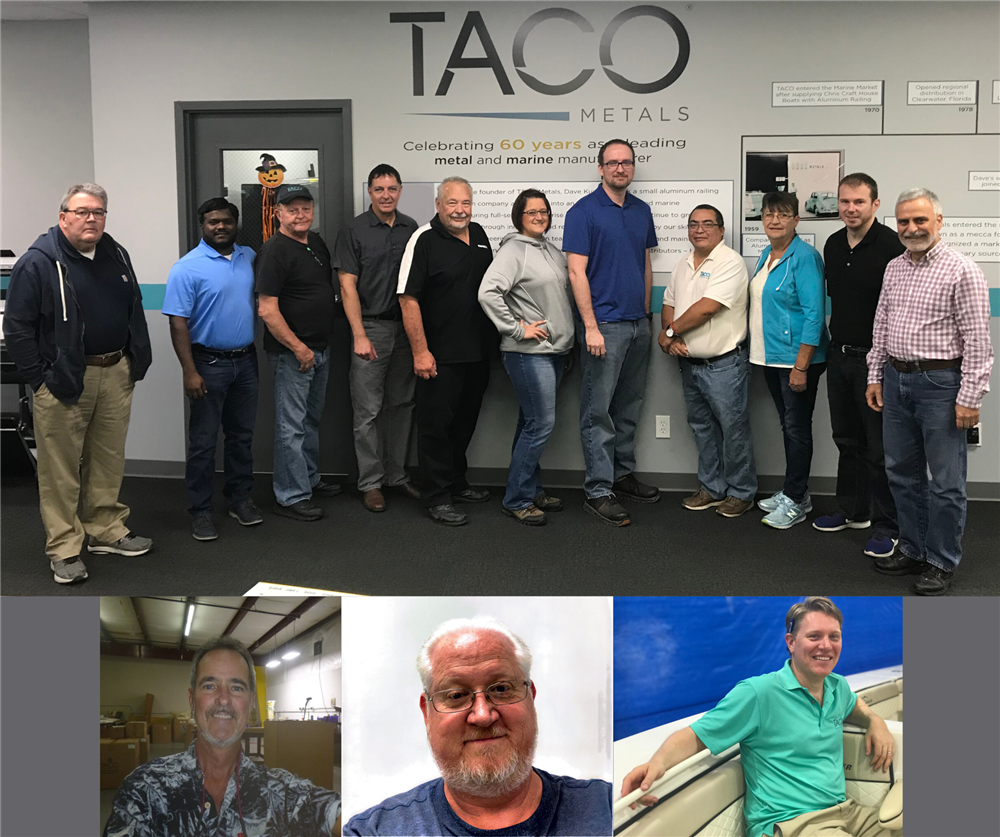 (Back left to right) David Phaneuf, Daniel David, Farron Miller, Richard McClain, Phil Serocki, Lindsey Smithson, Jason Simmons, Noel Perez, Rhonda Hawkins, Kevin Cunningham and Henry Amirkhanian.
(Front left to right) Charlie Wilkinson, Gary Lewelling and Jesse Knight.
In early 2017, Henry Amirkhanian joined team TACO as the Quality Manager – a position that had been unfilled for the previous four years. His role had a big goal of identifying, documenting, standardizing and improving multiple processes and procedures in order to significantly enhance what was previously done in company's then-58-year history. 
Together with then-Quality Lead Lindsey Smithson, Quality Assurance Inspector Rhonda Hawkins and Quality System & Process Administrator Noel Perez, Amirkhanian set to work on documenting TACO processes from the ground up. This included everything from manufacturing procedures and equipment maintenance, to supply chain methods and inspections through third-party vendors.
"The results were quite a bit of improvement in various products, both internally manufactured and also those from our suppliers," said Amirkhanian of the documentation overhaul.
The new Quality Control [QC] implementation also involved understanding and cataloging operations, measuring and inspecting components from suppliers, training suppliers on quality inspections prior to shipping, and enhancing in-house inspection and testing on plastics and CNC-machined components.
With the bulk of TACO processes now streamlined with higher standards in place, Amirkhanian said QC now gets involved in new product development during the early stages of design, beginning with the Engineering print for a part or product.
"Quality works closely with Engineering, Sales and other people in Manufacturing who would know about the application of the product," explained Amirkhanian. "That makes a big difference in understanding whether some features on the print or the part are critical to function or not."
Recently, Amirkhanian, who is training for his first marathon, was promoted to TACO's Director of Engineering & Quality, while Lindsey Smithson was promoted to the role of Quality Manager.
With 30 years of Engineering experience prior to joining team TACO, Amirkhanian said he is excited for this new endeavor and hopes to further improve the department's processes and success.
"We have to speed up our development and release of new products," said Amirkhanian of his goals for the Engineering department. "There's an effort to streamline things a little more and get more collaborative design work up front. By the time the product is released by Engineering, everyone else, including Purchasing, Manufacturing, Sales and Marketing, is involved in that process and all things are ready for launch."
As the new Quality Manager, Tennessee-native Smithson said she is excited for her position at TACO and plans to integrate functions from her previous role as Quality Lead with goals for the department ahead of 2020.
"One of my goals for the next year is to get my team more heavily involved in writing standard operating procedures, which is basically how to build a product from the bottom up," explained Smithson, who's worked in Quality for the better part of 14 years. "That way, we can look at everything and know when a misstep was taken [and] also look at the efficiency of each process to make sure everything is being looked at the best way possible."
Part of Smithson's role as Quality Lead and now Manager is keeping her finger on the pulse of numerous national and international standards, including the International Organization for Standardization [ISO].
"ISO is an independent, non-governmental international organization with a membership of 164 national standards bodies," states the institution's Website iso.org. "ISO has published 22,808 International Standards and related documents, covering almost every industry, from technology, to food safety, agriculture and healthcare. ISO International Standards impact everyone, everywhere."
With several new manuals, processes and inspections already updated and complete, Smithson, a mother of five, said she hopes TACO's quality standards will rise to ISO compliance within the next year.
"People who succeed in Quality have a passion for Quality," added Smithson. "Quality is very stressful and it's very detailed. If you are just in it for a paycheck, it's not going to be your line of work. You have to have a passion for Quality to succeed." 
On the Engineering side of TACO, Product Applications Engineer and kayaking enthusiast Daniel David said a huge part of his role is involved in the company's new state-of-the-art testing lab – an addition to the business in late 2016 in conjunction with more Engineers and the Quality department.
Inside the lab, David tests a host of TACO products against ABYC seat load and impact standards, salt fog, extreme temperatures, ultraviolet light, corrosion and more.
"A favorite part of my job is breaking things," David said with a laugh. "Whatever product we design, I could test it in the lab to its failure point."
Because of the company's ability to extensively test materials and finished products before they reach boat builders and end users, David said all TACO goods are stronger and more versatile for the marine industry than ever before.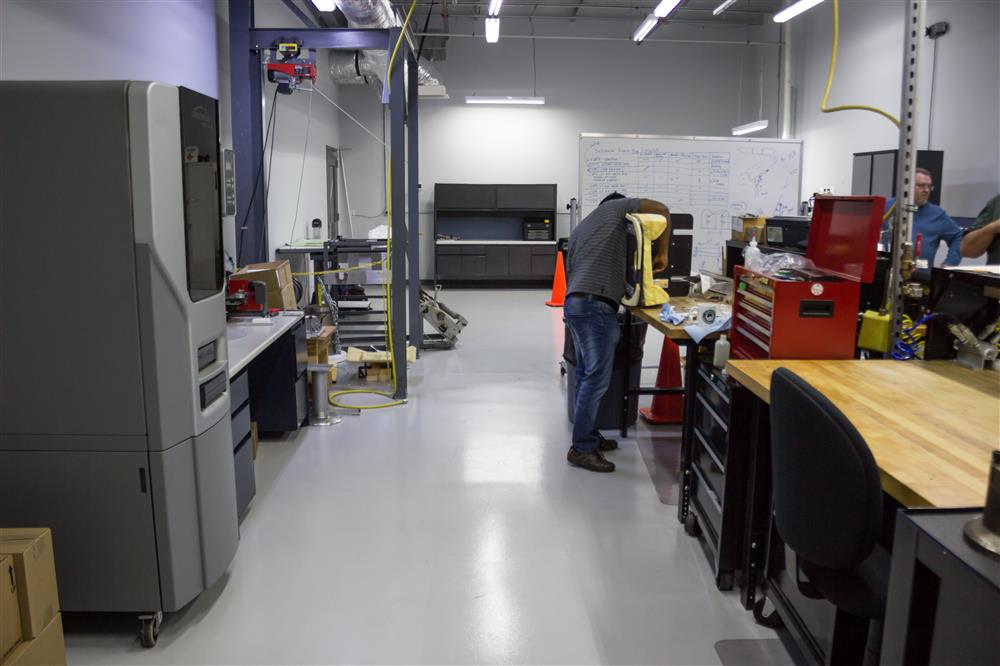 Product Applications Engineer Daniel David prepares a TACO Helm Chair for ABYC Seat Load testing requirements in lab.
In addition to working in the lab, David also works on TACO's popular Grand Slam Outrigger line, Seating products, 3D printing and Table Pedestal systems.
As an Engineer, David said working on products from start to finish is one thing that sets TACO apart from other marine industry companies, where Engineers may not get as much in-depth exposure to the product development process.
"With TACO, you get to [participate] from start to finish of a product, which is what I like," said David. "Here, you get to prototype [a product], test it, see if it's working, if there's iterations, make that product better, hear from the customer and get an A to Z experience, which is very valuable. You don't get that everywhere else."
Because of this A to Z experience, David said he believes TACO products are better engineered, manufactured and tested.
Research & Development Engineer Phil Serocki echoed David's sentiments and said in addition to the A to Z experience, it's also the company's broad product specialties that set TACO apart.
"Usually, certain companies do one thing," explained Serocki, who's been with team TACO for 25 years. "But at TACO, we work across all disciplines. Whether it's stainless steel, aluminum, plastics or carbon fiber. That is what makes TACO totally different."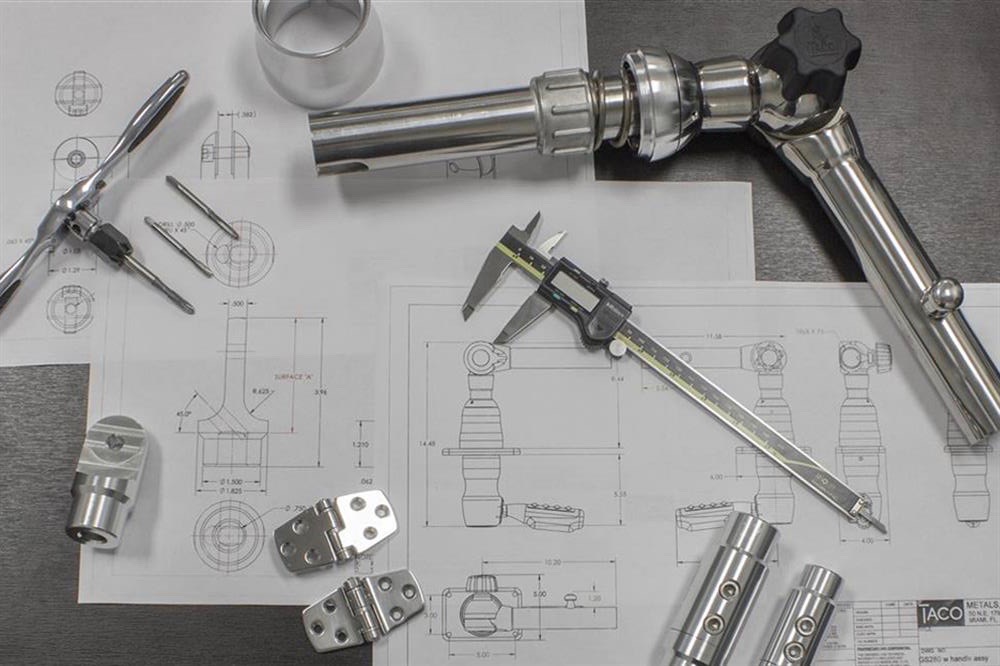 Research & Development Engineer Phil Serocki said the TACO Engineering team members specialize in a host of product categories.
Serocki, whose hobbies include exotic cars and quantum physics, said having a team of Engineers who specialize in different disciplines helps the company think outside the box and continually develop new, innovative products for its customers and the marine industry.
Additionally, developing new products often involves collaboration with customers, explained Serocki, who said such an initiative brings added value to the company.
Amirkhanian agreed and said TACO customers are involved in new product development from start to finish.  
"By collaborating with the customers, Sales, Manufacturing and other departments up front, we eliminate late-game changes or any surprises to those products later in the project cycle," he said.
At the end of the day, Amirkhanian said the best thing about TACO's Engineering and Quality departments is its people – a dedicated group of men and women with different passions and goals who work together to see a project come to fruition.
"Everyone is dedicated, knowledgeable, excited to take care of customers and eager to learn," said Amirkhanian.
VP of Manufacturing Bill Kushner, who oversees both departments, said the men and women of Quality and Engineering play a key role in the company's continued development and success.
"At TACO, we pride ourselves in providing solutions to our customers," said Kushner. "Product development and engineering is, by nature, exploring the unknown and new areas that, if done successfully, will reward the company tremendously. Unlike other departments, there is very little repetition, so a lot of what we are doing is not always predictable. Many times, the projects start out with one understanding and change during the process due to learning more that was unknown at the outset. Our team is a seasoned group who understands this and is dedicated with the persistence and determination required to get new, innovative products introduced in the marketplace." 
From all of us at TACO, thank you to Charlie Wilkinson, Quality Assurance Inspector, Daniel David, Product Applications Engineer, David Phaneuf, Plastics Tooling Engineer, Farron Miller, Tool Room Machinist, Gary Lewelling, Seating Product Developer, Henry Amirkhanian, Director of Engineering & Quality, Jason Simmons, Product Applications Engineer, Jesse Knight, Product Applications Engineer, Kevin Cunningham, Product Applications Engineer, Lindsey Smithson, Quality Manager, Noel Perez, Quality System & Process Administrator, Phil Serocki, Research & Development Engineer, Rick McClain, Tool Room Machinist and Rhonda Hawkins, Quality Assurance Inspector.