On any given week, a team of 17 people in Tennessee pulls, packs and ships 200-plus orders to TACO customers throughout North America and beyond. Large or small, this team of dedicated individuals works hard to ensure order accuracy and on-time delivery. Meet the TACO Warehousing & Distribution team in Sparta!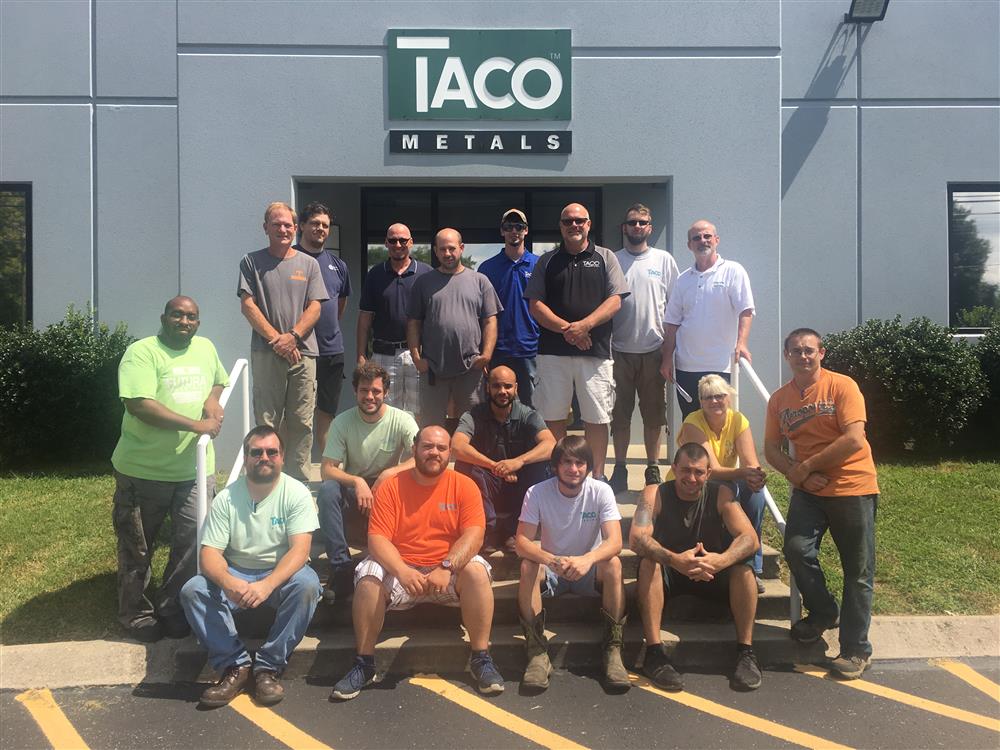 (Front left to right) Larnell Mitchell, David Brimer, Deric Young, Zack Payne, Eric Lewis and Matt Streeval. (Second row, left to right) Doug Raper, Pedro Rosa and Paula Madewell. (Back row, left to right) Jeff Payne, Jericho Wilson, Andrew Davidson, Philip Parliment, Dustin Rice, Gene Bray, Justin Pawlicki and Jim Hartman.
Operations Director Pedro Rosa oversees the entire Warehousing & Distribution [W&D] team in Sparta, where TACO's Main Manufacturing & Distribution Center has been located since 2007. 
"We are given the opportunity on a weekly basis to be that company to jump through hoops for our customers and show that we can go above and beyond," said Rosa of W&D team. 
TACO VP of Manufacturing Bill Kushner, who oversees the entire W&D team, said this department is a vital part of the business.
"Our warehouse operations team in Sparta is heavily counted upon hour to hour, day to day, to support both internal and external customers with extremely time sensitive requirements," said Kushner. "They are a dedicated team that is relied upon to pull out all the stops and get the correct product where it is needed when it is needed and in good condition."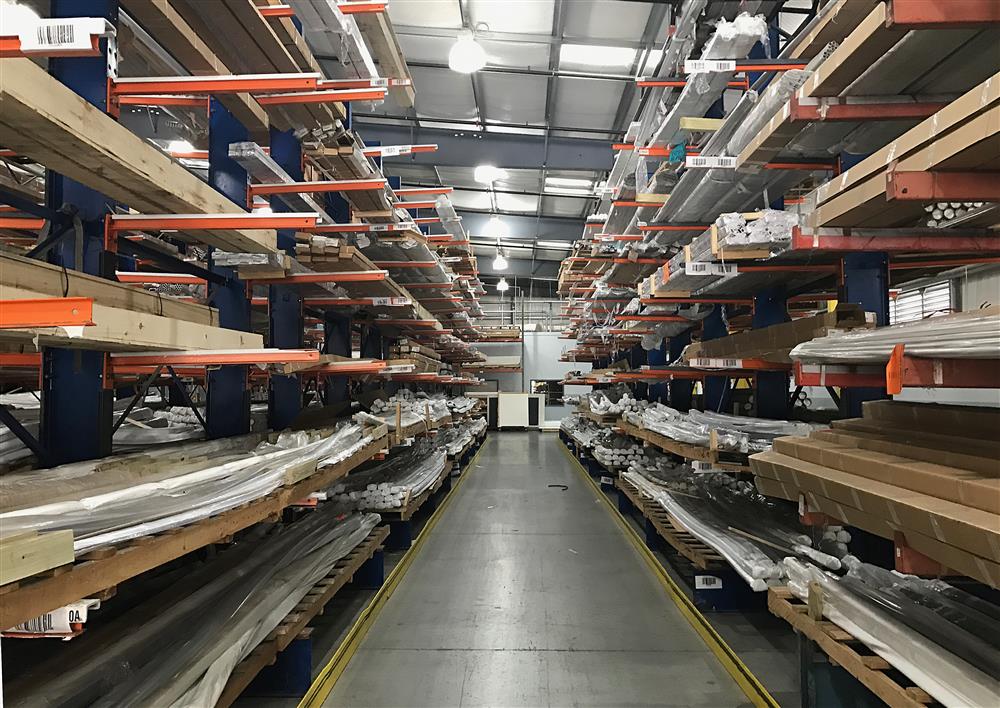 A peek down one of the many isles inside the Sparta 150,000-plus square foot Main Manufacturing & Distribution Center.
From the nine-person squad of Material Handlers to the Shipping and Receiving Leads and Supervisors, Rosa said every member of the W&D team plays an important role for TACO customers. 
"We live and die by what our customers need," said Rosa. "We are all very aggressive in trying to accomplish what our customers need."
After an order is placed and the parts manufactured, the Material Handlers and Leads set to work on the four P's – picking, pulling, packing and processing. Once an entire order is processed, it then gets loaded and shipped to a TACO customer. 
"So many hands touch one product," explained Rosa.
Unlike other marine-industry Operations Directors, Rosa does not have an office – a personal choice that he said makes him a better leader.
"I am right in the middle of the floor with everyone," explained Rosa, who's been the company's Operations Director for four years and part of the TACO team since 2003. "I love to keep a finger on everything and to overhear conversations to give guidance where needed."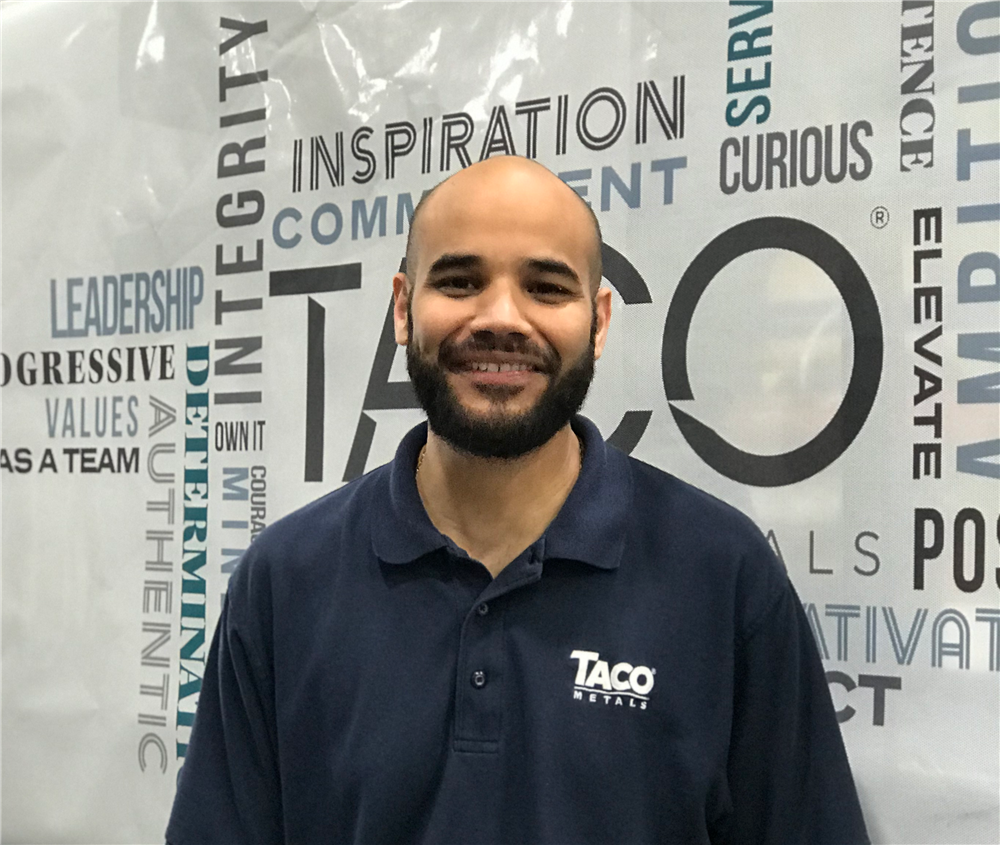 Operations Director Pedro Rosa started with TACO in 2003 in Miami, Florida. He now oversees the entire Warehousing & Distribution team in Sparta, Tennessee.
In addition to Rosa, the shipping side of the W&D team also reports to Shipping Supervisor Gene Bray, who's been with team TACO for nearly 13 years. 
Bray, a Sparta, Tennessee native, is experienced in a number of TACO roles, including Warehouse Manager and Warranty & Repair.
During the day-to-day duties of shipping, Bray said the core of his role is ensuring job safety and customer order accuracy.
"It's taking care of the customers and making sure the customers are happy," explained Bray of his role, who added that his customers are also other departments within TACO.
Bray said the main reason the W&D department succeeds is because of their teamwork mentality. 
"Everybody works together," said Bray. "Everyone is helping each other and the team atmosphere is the best thing we have."
One of the many tools that Bray said helps the W&D team succeed is the incorporation of scanners into their work. As an order is picked, pulled, packed and processed, team members scan the items to track an order's progress. He said scanning ensures order accuracy and inventory control. 
In addition to efficiently managing inventory, Shipping Clerk Justin Pawlicki said he and Bray are also focused on finding the best carrier methods for TACO customers – aiming to save time and money. 
Pawlicki said the best delivery methods for customers may include TACO trucks, LTL, UPS or even the United States Postal Service, to name a few. 
Both Rosa and Bray said the W&D team is important to the business because their work is the first thing a customer sees when an order is received. 
"We are the last people to touch the merchandise before it actually gets to the customer," said Bray. "It goes back to what I said about being a team. It takes all of us to succeed for the customer."
On the receiving side of the W&D team is Receiving Supervisor Andrew Davidson, a newer face to team TACO who joined the company almost nine months ago.
Before joining TACO, Davidson worked for four years as a Supply Specialist in the United States Military – a position he said helps him succeed within the W&D team. 
"What the Supply Specialist does is keep track of every piece of material that the military has," explained Davidson, a Detroit, Michigan native who moved to Tennessee at 11. "All of the devices, the tanks, the weapons, all the way down to toilet paper – you have to keep track of everything."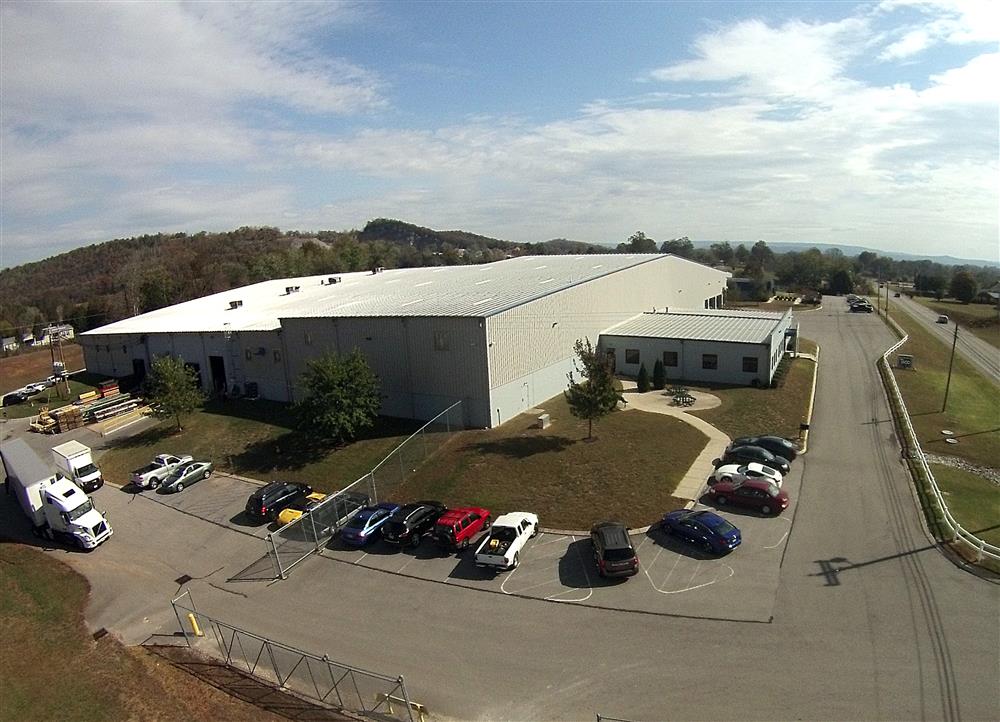 An aerial view of TACO's Main Manufacturing & Distributution Warehouse in Sparta, Tennessee.
On a daily basis, Davidson reviews TACO orders and then meets with his team to prepare. Before they set to work, he leads his team through a series of stretching exercises, which segues into a group planning and goal discussion.
"I am the type of person who likes to include the team in everything that we do," said Davidson. "If they see something that I may overlook, I want them to bring it to my attention so we can address it and improve."
Besides receiving shipments, Davidson said the receiving team is responsible for emptying CNC scrap bins and organizing fabric, plastics and other goods used for manufacturing.
When Davidson first joined team TACO, he implemented the 5S concept of housekeeping – a waste elimination principle through workplace organization that is derived from the Japanese. 
The 5S, when translated into English, stands for "Sort, Set in order, Shine, Standardize and Sustain." 
"Basically, the 5S is built to keep the facility clean," explained Davidson. "Once everything is clean, it is easier to find the products – putting the parts in the right area so that things run more efficiently." 
Also in the receiving department is Receiving Lead Dustin Rice, a Sparta, Tennessee native who joined team TACO right after graduating high school six years ago. 
A big part of his job is not only receiving materials that come in, but also leading a team of individuals who are tasked with correctly processing and organizing goods throughout the TACO warehouse.
Rice echoed Bray and said the department's teamwork mentality is what helps them succeed day after day. 
"If it wasn't for [receiving], shipping wouldn't be able to do their job, and if shipping didn't do their part, then we wouldn't be able to do our job," explained Rice. "Teamwork is big for us. Everybody has got to be on the ball." 
In the shipping department is Shipping Lead Jim Hartman, a relatively new member to team TACO who reports to Bray.
A big part of Hartman's role is not only ensuring job safety, but also to lead the shipping team throughout the four Ps of picking, pulling, packing and processing.
Beyond the four Ps, Hartman said what he believes makes the TACO W&D department succeed is a fifth P for "passion."
"We are about the products and the people," said Hartman, a long-time Sparta resident. "We put a lot of passion into our shipping department."
Rosa said he agrees with Hartman.
"Our people are passionate and love what they do," said Rosa. "We want to have the most successful work environment, and in order to do that we have to have a common goal. We are motivated. We come in eager to work. I love surrounding our teams with people who have pride in what they do and will go that extra mile."
From all of us at TACO, thank you to Pedro Rosa, Gene Bray, Andrew Davidson, Jim Hartman, Dustin Rice, Justin Pawlicki, Deric Young, David Brimer, Jeff Payne, Zack Payne, Jericho Wilson, Doug Raper, Eric Lewis, Larnell Mitchell, Philip Parliment, Matt Streeval and Paula Madewell for your passion, pride and hard work!