1970 marked many important milestones for the United States. Diana Ross & The Supremes performed their farewell concert in Las Vegas, the first-ever Earth Day proclamation took place in San Francisco, and Ocean Marketing, formerly called the Peter Sutton Company, was founded in Boxford, Mass.
Over the next 50 years, Ocean Marketing [OM] evolved from a single manufacturer representative into a multi-person agency that now spans the entire Eastern seaboard and represents a variety of marine-industry manufacturers, including TACO Metals, the parent company of TACO Marine. Today, OM is a full-service agency that provides a high degree of customer and technical support services, product trainings, retail detail and more.
The History of Ocean Marketing & TACO
Long-time OM President & CEO John Thommen first joined the Peter Sutton Company in 1976, and in 1981 bought the business from Sutton with two partners – John Stuart and David Biddle, respectfully.
"[Peter] always believed that we should sell the customers customer in terms of pull through, education, technical services and all of those things," explained Thommen of Sutton's original business model. "We have made that part of our mission statement and have practiced it ever since."
It was 35 years ago, Thommen estimates, when OM first began working with TACO. At the time, TACO's business model was 100 percent OEM. Jon Kushner, TACO's President and then VP, reached out to OM to help facilitate an Aftermarket strategy to enter the consumer marketplace and expand the company's distribution.
Together, OM and TACO created the Aftermarket Sales Manager position and developed an entire DIY product line for marine retailers throughout North America. Soon after, TACO introduced its Sport Fishing program into the Aftermarket, which Thommen credits as a turning point for the new strategy.
"[Ocean Marketing] really helped introduce TACO and get our line into a lot of the Aftermarket accounts," said TACO VP of Sales & Marketing Mike Kushner. 
A key reason Thommen said OM is successful is because its 18-person team, which is comprised of avid boaters and fishing enthusiasts, including people who've lived and worked on boats, experienced sailors and even a current Commodore of a Northeast U.S. yacht club. 
"Industry knowledge is one thing, but practical knowledge about boating is extremely important," said Thommen, an active boater himself.
Linda Frink, OM's Regional Manager, agreed with Thommen and said industry experience and know-how are vital for her role.
"I don't know how somebody could do this job if they didn't have any boating background, because it's like a foreign language," said Frink, who manages the agency's New Jersey and Long Island, New York dealer and distributor accounts.
Navigating the Uncharted Waters of COVID-19
Of OM's 50-year anniversary, TACO Aftermarket Sales Manager Phillip Taschioglou said it means the agency's business model is a proven recipe for success. On top of that, he said the company is adaptable and has worked through many challenges, including recessions and now COVID-19.
"With the experience that John has, it's kind of like a rudder in a storm, where you know that in working with him and his team, that they're going to guide us through this the right way," said Taschioglou.
OM Southeast Region VP Ed Hoch, who is based in Fort Lauderdale, Fla., said the agency is exploring new ways to stay connected to their customers, such as meeting virtually via video calls and hosting webinars.
Despite a drastic change in routine – from traveling four or five days a week to now occupying a desk from 8 to 5 –, VP of Sales Jeff Cox said he and his team have not experienced slow downs from the pandemic. In fact, he said the company is receiving more technical support calls than ever and is using technology to help educate and drive manufacturer promotions. 
Thommen said he believes the marine industry is uniquely positioned for continued success because families view boating and fishing as acceptable and safe ways to socially distance while also providing an outlet for fun.
Receiving the Alan J. Freedman Memorial Leadership Award
In 2019, Thommen received the Alan J. Freedman Memorial Leadership Award from the National Marine Manufacturers Association [NMMA] during the Progressive Miami International Boat Show.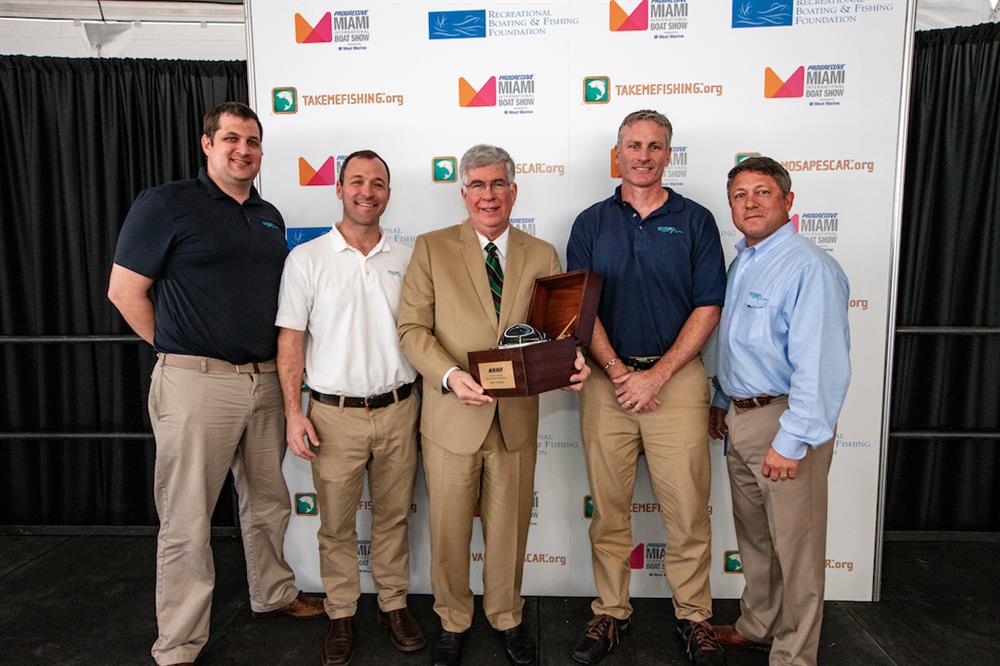 John Thommen received the Freedman Award during the 2019 Progressive Miami International Boat Show. From left to right, Ken Wickey, Jeff Cox, John Thommen, Mick Coughlan and Ed Hoch.
"Recipients of the NMMA Freedman Award are individuals who, in the course of their careers, have made outstanding contributions to the marine accessories industry through leadership, creativity, and personal motivation," reads the award description on NMMA's website nmma.org. 
For Thommen, he said the award was a validation of years of hard work while also recognizing the many organizations for which he has volunteered. Some of his volunteering accolades include the National Marine Distributors Association board of directors for eight years, a past Director of the National Marine Representatives Association, a past Director of the United States Marine Safety Association and trustee of the Coast Guard Foundation.
"I was extremely proud," recalled Taschioglou, who attended Thommen's award ceremony during the 2019 Innovation Awards breakfast. "Integrity and professionalism go a long way. It's not just about the sale or getting into an account. It's how you do it and making sure you're doing it the right way. He's done that."
Kushner echoed Taschioglou and added that Thommen is one of the most driven individuals he's met. 
A 50,000-Foot View of TACO
Cox said TACO stands out in the marine industry because of its diverse product offering across a variety of boating categories.
"There is so much innovation and so many different market segments that TACO works in," explained Cox, an avid sailor whose territory includes Maryland, Delaware, Virginia, Pennsylvania and the Carolinas. "We get to be in a lot of different aspects of the industry and really offer premium product to boaters in a lot of different places on their boat." 
Hoch, who is also an avid boater and fishing enthusiast, recently finished restoring at 1978 SeaCraft 20-foot Master Angler. It addition to marketing TACO products to his dealer and distributor body, he and his son installed a variety of the company's DIY line throughout the boat, including a Neptune Leaning Post, Rub Rail, LED Lights, Outrigger Mounts, Tele-Outrigger Poles and Spreader Lights.
"Having a range of products like TACO Marine has, I was able to go to one source and use as much of it as I could," said Hoch of his SeaCraft restoration project.
The Impacts of Ocean Marketing
Day after day, Kushner said OM continues to succeed because of its team, its leadership and everyone's drive to see a project through from beginning to end.
"Aftermarket is critical to TACO's future, and I think the last few years we've really been focused on building out our brand, and Ocean Marketing is a part of that," said Kushner. "I think that what they do day in and day out at TACO is something that's hard to find. It's been a true partnership."
Taschioglou added to Kushner's sentiments and said being able to work with such a professional group enables everyone to get a lot accomplished.
From all of us at TACO, thank you to John Thommen, Ginny Cuneo, Karen Williams, Brick Ranson, Rick Lyman, Ken Wickey, Dave Finn, Craig Lavazza, Laurie Perno, Matt Haig, Jeff Cox, Ed Hoch, Linda Frink, David Devens, Jeffrey Earl, Mick Coughlan and Debbie Bell of Ocean Marketing!