Since we opened our doors in 1959, providing excellent customer service has been at the heart of all we do at TACO. Because of this, we're highlighting our customer service team – a group of diverse individuals from around the country who consistently go above and beyond.
As we celebrate our 60-year anniversary, we want to thank Gary Beasley, Bob Wiborg, Richard Cadien, Patricia Rocha, Mercedes Morales, Rey Gonzalez, Judy Parliment, Bob Mitchell, Nick Essenmacher, Katherine M. and Robert Perez for continually exceeding expectations for our customers and internal teams.
THE UNSUNG HEROES
When describing the customer service team, TACO VP of Sales & Marketing Mike Kushner dubbed the group the "unsung heroes." He gave the team this moniker to explain the depth and breadth of their role at the company.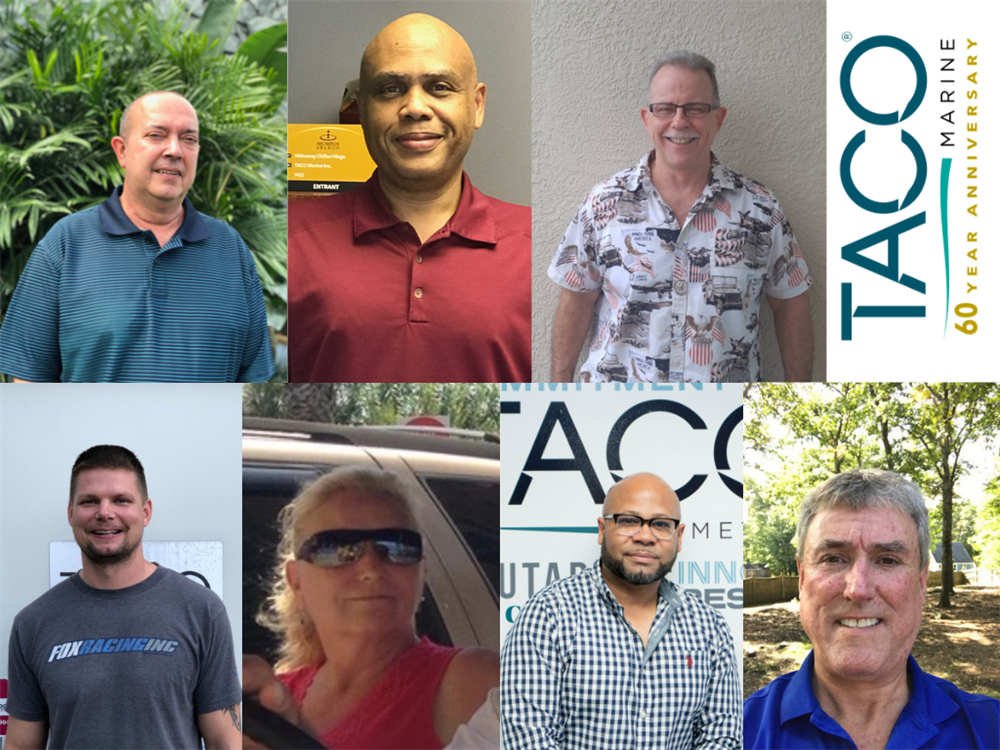 Top left to right: Rey Gonzalez, Richard Cadien and Gary Beaseley.
Bottom left to right: Nick Essenmacher, Judy Parliment, Robert Perez and Bob Mitchell.
Not pictured: Mercy Morales, Patricia Rocha, Bob Wiborg and Katherine M.
Mike Kushner said the sometimes-thankless role of customer service means they work hand-in-hand with all of TACO's departments, from Sales, Marketing and Engineering to Manufacturing, Warehousing and Delivery. Additionally, because of the company's varied customer base in the metal and marine industries, every member of customer service needs to be knowledgeable in an expansive array of products and categories.
TACO VP of Manufacturing Bill Kushner said he recognizes and appreciates the knowledge and dedication of the TACO customer service team.
"The customer service people are the first point of contact when a customer calls in," said Bill Kushner. "Besides being professional and courteous, they are knowledgeable and able to answer what questions they might have regarding our products. In that regard, [customer service] is a very important position." 
TREATING CUSTOMERS LIKE FAMILY
While the core of TACO's customer service team is based at the company's Miami headquarters, the group also includes representatives in Largo and Casselberry, Florida, Avon, Massachusetts, Sparta, Tennessee and Summerville, South Carolina. Many of these team members have been with the company for some time, such as long-time customer service representative Rey Gonzalez, who has been with TACO for more than 20 years. 
"Everyone who buys, uses and inquires on TACO products, I treat as though they are a guest in my home," said Gonzalez, who works in Miami. "I'm there before, during and after the sale. I not only hear what the caller is saying, [but] I listen to them [and] pace myself at their rate. What's important to the caller is just as important to me."
TACO's newest addition to the customer service team, Robert Perez, echoed Gonzalez' statement.
"I believe customer service to a company is like the front door to your house," said Perez, who joined team TACO in January. "It's where the customers can feel right at home. We take the time out to listen to the customer and take care of the customer's needs." 
ANTICIPATING CUSTOMER NEEDS
For Customer Service Representative Mercy Morales, who recently celebrated her 18th year with TACO, being a customer service representative is sometimes like being a mind reader – helping to navigate a customer's needs without all the information up front.
"There's a lot of customers who just describe a part, versus giving us a part number," said Morales. "That makes it easier for a customer, versus opening a book and trying to find a part number. It's easy to communicate with us in that aspect."
Because the reps so often anticipates needs, Bill Kushner said it makes their role vital to the customers.
"We have dedicated personnel who understand the customer's business and become part of their team," he said. "We try to be more than just order takers. We're people who can give information and advice, and help customers to understand and use our products better."
Unlike some companies that choose to employ automated customer service programs, Massachusetts-based TACO Customer Service Representative Bob Mitchell said speaking to a person is a better approach to anticipating needs.
"Throughout the order process, systems, products and contact with live representatives create a thorough and systematic map for the customers to follow," said Mitchell, who's been with TACO for six years.
NOT YOUR TYPICAL TEAM
While some customer service roles are traditionally served behind a desk, Summerville, South Carolina Warehouse Manager Nick Essenmacher is redefining the post. 
"With my customers, I am able to receive a call or email [and] can go to the customer and actually give them hands-on customer service," said Essenmacher, whose hybrid customer service and warehouse manager role enables him to better serve TACO customers in the Carolinas. 
"TACO has been making the best products in the industry for years and its my goal to ensure the products that are coming out of [the] Summerville warehouse are exactly what the customer wants and needs," added Essenmacher. "By giving the customer the best products, they trust us to make more products for them as their business grows. We not only want to sustain the customer needs, but we want to grow with them." 

Senior OEM Insides Sales Representative Richard Cadien, who has more than 25 years of TACO experience in both sales and customer service, said the customer service team is truly dedicated to their work. 
"We make sure the order is handled from the beginning of the transaction till the end, so that the customer and TACO are satisfied," said Cadien. 
If customer feedback is any indication, TACO's customer-centric focus is doing something right. Time and again, Warranty & Repair Coordinator Judy Parliment, who is based in Sparta, Tennessee, receives praise from the boating community for going above and beyond. 
In a recent post on thehulltruth.com, one TACO fan wrote, "Judy at TACO warranty is AWESOME! AWESOME! AWESOME!"  
THANK  YOU
As we look to the future, we recognize that we are lucky to have not only competent, qualified customer service representatives, but also a unique blend of individuals who are truly dedicated to their role within the company. From all of us at TACO, thank you to our amazing customer service team!