Near the heart of Summerville, S.C. is a TACO Regional Warehouse where a team of three individuals works together to provide products and customer service to boat builders in the area. Please join us in recognizing the outstanding contributions of our Summerville Warehousing & Distribution team!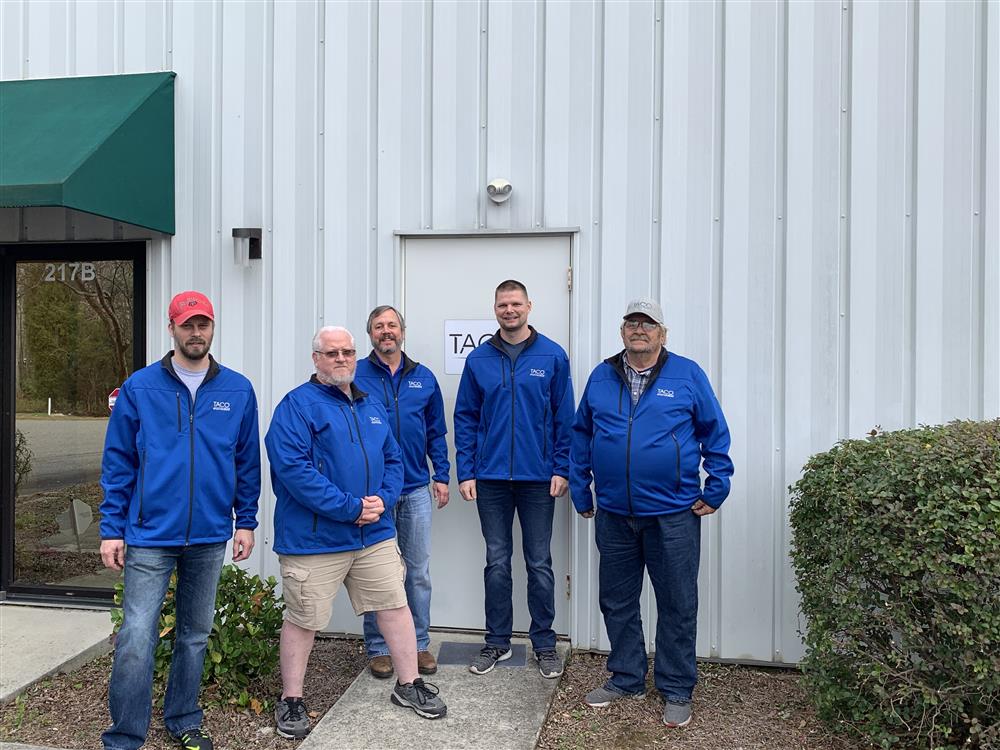 In addition to Warehousing & Distribution, we have an Outside Sales Representative and Seating Product Developer in Summerville, S.C. From left to right, Gary Klee, Material Handler, Gary Lewelling, Seating Product Developer, Gordon Peters, Outside Sales Representative, Nick Essenmacher, Warehouse Manager, and Edward McMeeken, Material Handler.
Since 2017, when TACO first established it Summerville, S.C. Regional Warehouse, Warehouse Manager Nick Essenmacher has been a familiar face and voice for customers.
When he's not running the warehouse, Essenmacher moonlights as a TACO Customer Service Representative for boat builders and fabricators in South Carolina. 
"My warehouse duties consist of making sure the customer has the products they need and ensuring they are shipped on time," explained Essenmacher, a Gunnery Sergeant in the United States Marine Reserves. "On the Customer Service side, I enter orders, let the customers know when they will receive their products and I always do my best to ensure the customer is 100 percent satisfied with the TACO products we deliver." 
TACO Operations Director Pedro Rosa, who oversees the company's entire Warehousing & Distribution, said the Summerville team is a pillar for the boating industry in the Carolinas because they partner with builders to create solutions.
"The team does customer visits verifying inventory, discussing replacements and opportunities, [and] in most cases even pre-projecting customer needs prior to orders," said Rosa. "It is this approach that makes this team so stellar and beneficial to the area."
Anticipating customer needs, Rosa added, is the embodiment of TACO.
Because of his time in the Marine Corps as an active duty Staff Sergeant for 12 years and 5 years in the reserves, Essenmacher said he is a more effective leader.  
"In the Marines, we have 14 leadership traits that can rollover to any job: justice, judgment, dependability, initiative, decisiveness, tact, integrity, endurance, bearing, unselfishness, courage, knowledge, loyalty and enthusiasm," explained Essenmacher. "I take pride in these leadership traits and ensure I use these in my day-to-day operations at TACO."
A core value of TACO is teamwork, and Essenmacher said it's because of this value that his team is successful.
"We all respect each other, work well together and want to ensure we take care of our customers and TACO," he said.
In addition to teamwork, Material Handler Gary Klee said hard work and a customer-centric attitude also help make the Summerville team successful.
"[We] will do anything to help and keep our customers happy," said Klee, who joined team TACO 1 year ago.
As a Material Handler, Klee loads the truck and helps customers who come to the warehouse. Additionally, he said he is always looking for ways to improve the efficiency of the warehousing and distributing process, such as innovative ways to box custom parts or improved storage techniques. 
Working alongside Essenmacher and Klee is Material Handler Edward McMeeken.
Like Essenmacher, McMeeken also has a military background with 21 years in the United States Air Force as a Cargo Specialist and Fireman. After his time in the Air Force, he worked Civil Service at the Charleston Naval Base until 1996 and then as a Shipper in another warehouse until he retired in 2007. 
Not one to sit still, he came out of retirement to join team TACO in 2017.
McMeeken said what sets the TACO Summerville team apart from other companies is its teamwork. 
"This place is a team who works together," said McMeeken. "There is no other place that I have worked so closely [together] to get the job done. We set our goals and we work together to complete our goals." 
Looking to the future, Essenmacher said the Summerville location is slated to expand its warehousing and distribution into North Carolina, an area previously served with LTL and other shipping methods. 
"As the Summerville branch grows, it is great to have the support of the TACO management to ensure we have the proper tools to do our job," said Essenmacher.
TACO VP of Manufacturing Bill Kushner said the Summerville Warehousing & Distribution team is an important part of the TACO family.
"It's a small team, but they have very good passion and dedication," Kushner said.
Thank you to Nick Essenmacher, Edward McMeeken and Gary Klee for your continued hard work and dedication to TACO and its customers throughout the Carolinas!