For fishing enthusiasts, it's almost impossible to have enough rod holders onboard. At TACO, we offer a variety of rod holders, clusters and storage options to help anglers stay on the water doing what they love. 
TACO ROD CLUSTERS
It's not uncommon to find center consoles with an abundance of rod holders – along the gunnel, around the top and at the back of the Leaning Post. But if you want to turn your center console into the ultimate fishing machine, consider adding a TACO rod cluster to your fishing arsenal.
The Kite Fishing Rod Cluster effectively turns one rod holder into three, which can easily be picked up, moved and repositioned when fighting a fish. The base of the Kite Cluster features a 15º bent shaft, which helps ensure clearance when placed into a rod holder. The butt of the Kite Cluster is a solid gimbal design, which securely positions it into rod holders on either side of the pin. This cluster is made from aluminum with a sleek silver brite dip finish. It is 24-1/2" tall, 20" wide and fits standard rod holders.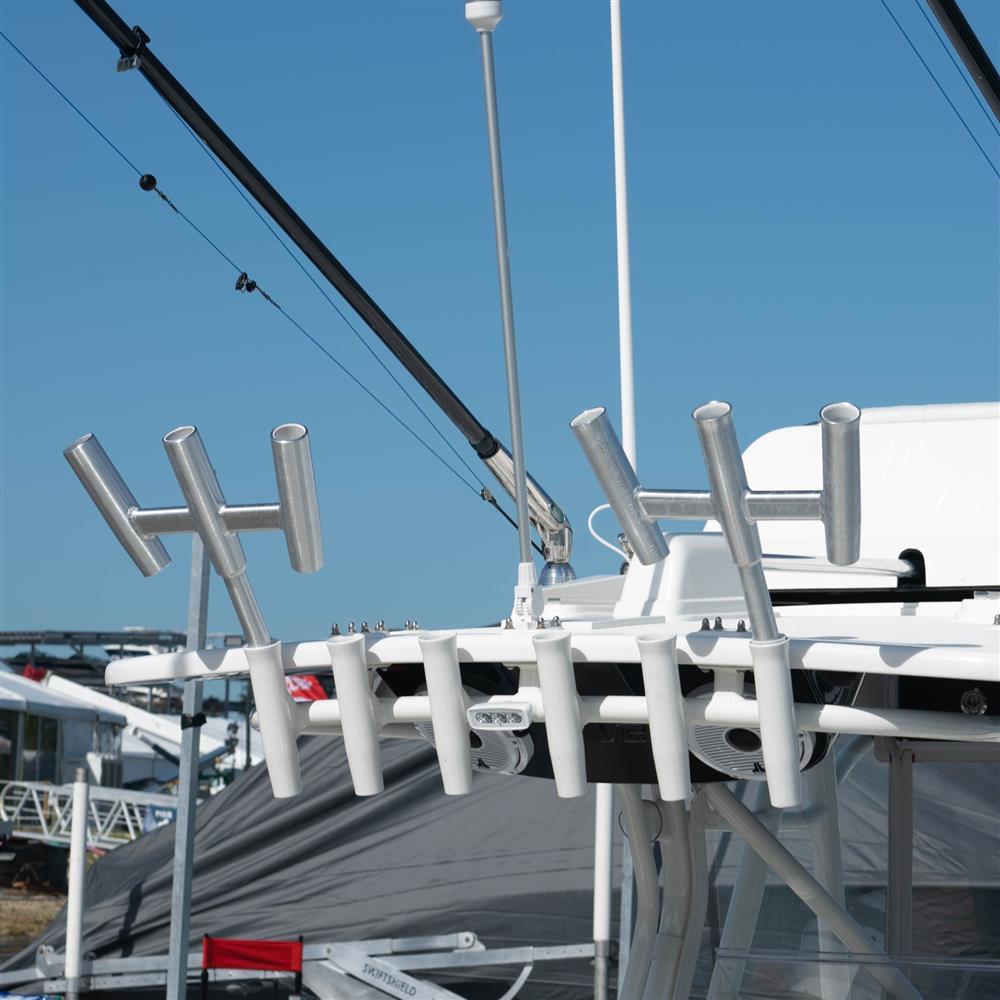 For anglers who like to have tackle and other supplies near at hand, the Deluxe Trident Rod Holder Cluster with a removable tool caddy is a must-have onboard. This cluster is available with a straight or offset shaft and easily turns one rod holder into three. The removable tool caddy comes equipped with a cup holder, a tackle tray and pre-drilled holes for knives, pliers, rigs, lures, spoons, etc. This cluster also features an eye strap attachment for a safety lanyard and/or de-hooker placement.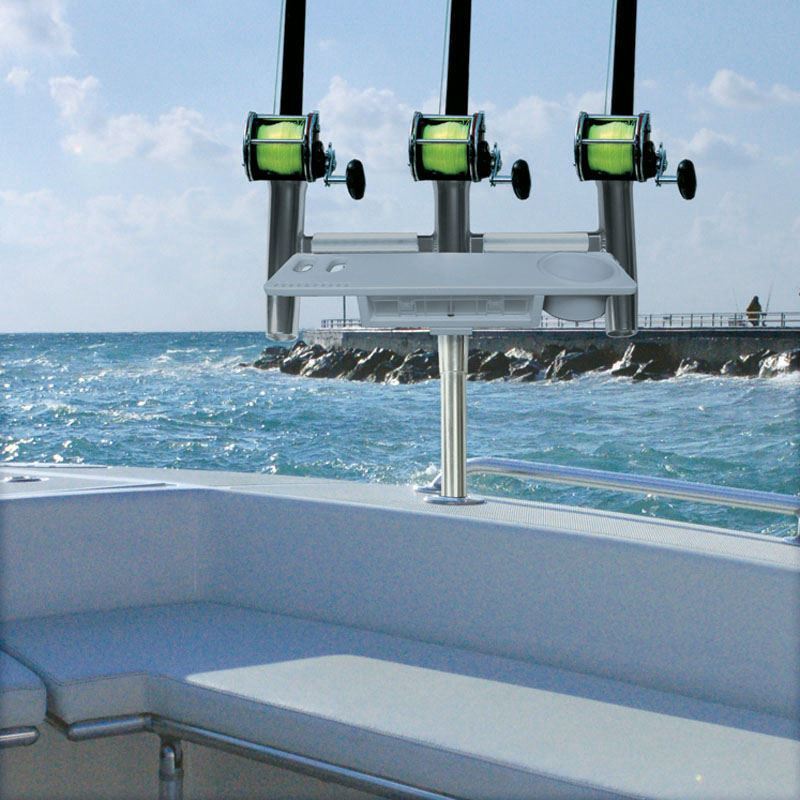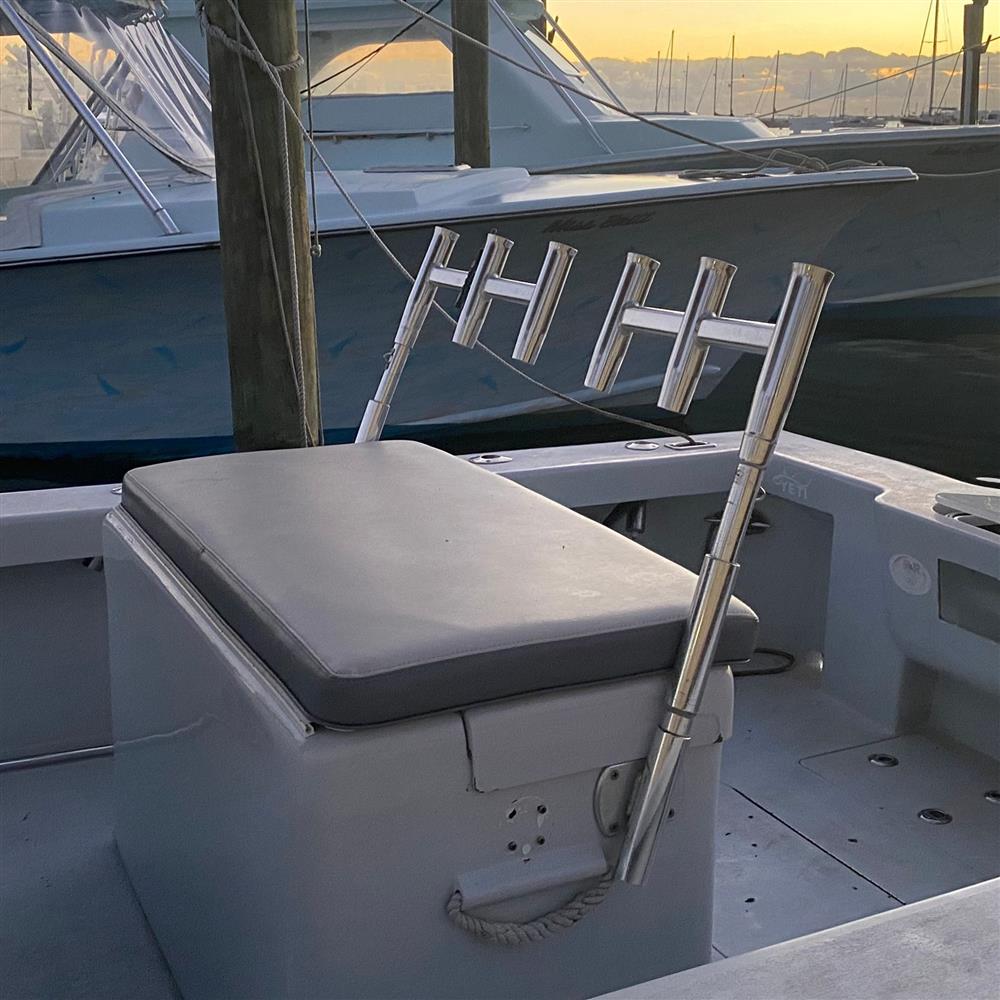 When three rod holders just aren't enough, anglers turn to the Olympic Rod Holder Cluster – a 5-rod masterpiece made of durable, welded, high-polished anodized aluminum. Like our other clusters, it features a sold gimbal butt for secure placement. It also features finger-molded grooves on the shaft and fits any standard rod holder.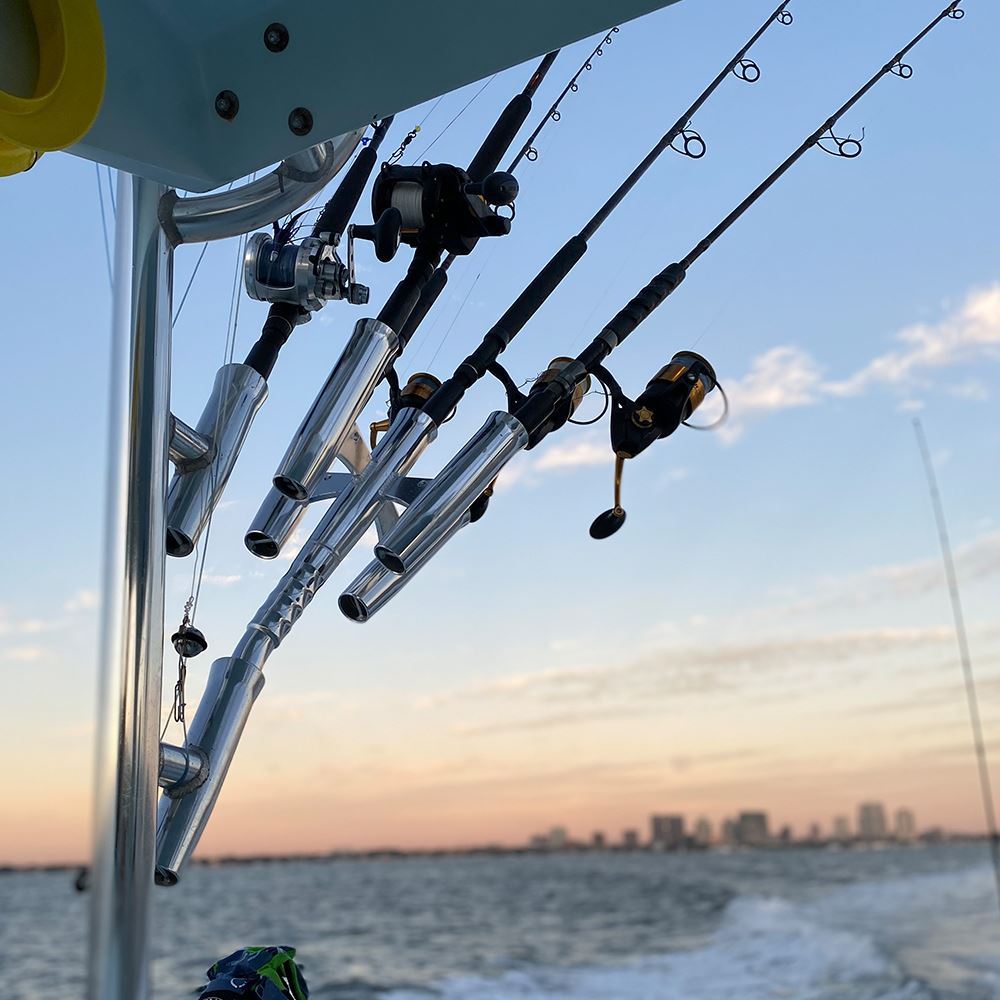 ROD HOLDERS & STORAGE
For boats with limited or no rod storage, we offer a variety of DIY rod holder and storage options, starting with our stainless-steel clamp-on adjustable rod holders. These durable holders come in a variety of clamp sizes to fit pipe and tube ranging from 7/8" to 1-15/16". What makes these patented rod holders unique is the ability to rotate and lock the holder every 18-degrees. They have a flared opening, an I-beam welded base and include a form-fitted white PVC liner.
Another fantastic alternative for fishing rod storage is our line of Revolving Rod Tip Holders and Rod Hanger Racks.
The Revolving Rod Tip Holder & Stationary Rod Hanger Kit enables anglers to mount this stainless-steel system under tops and gunnels for convenient and clean rod storage. It features a patented rod tip holder with a spring-lock design to lock fishing rods in position. To help with its clean appearance, this product features concealed fasteners with pre-drilled, recessed mounting holes and beveled edges. Easily install this kit vertically, horizontally and overhead.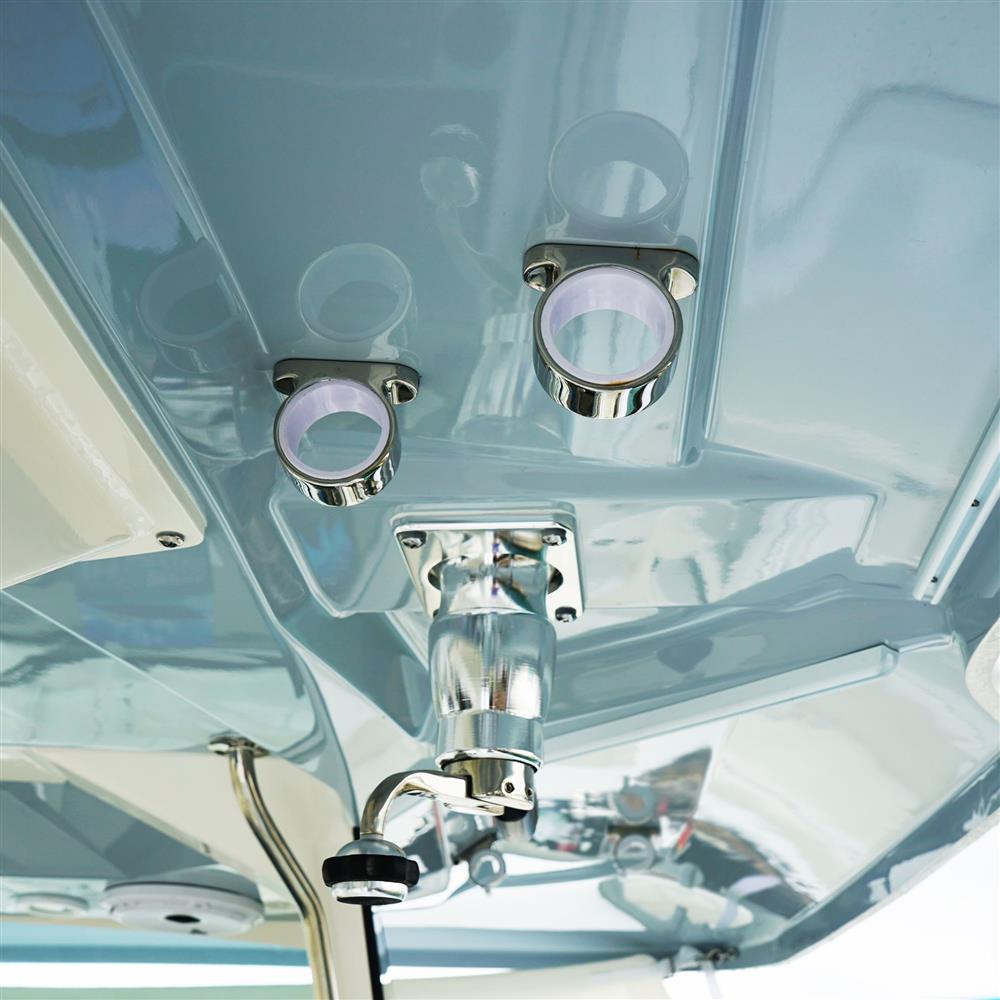 We've taken the kit a step further and created 2-, 3- and 4-Rod Hanger Racks mounted to durable, UV-stabilized white polyethylene.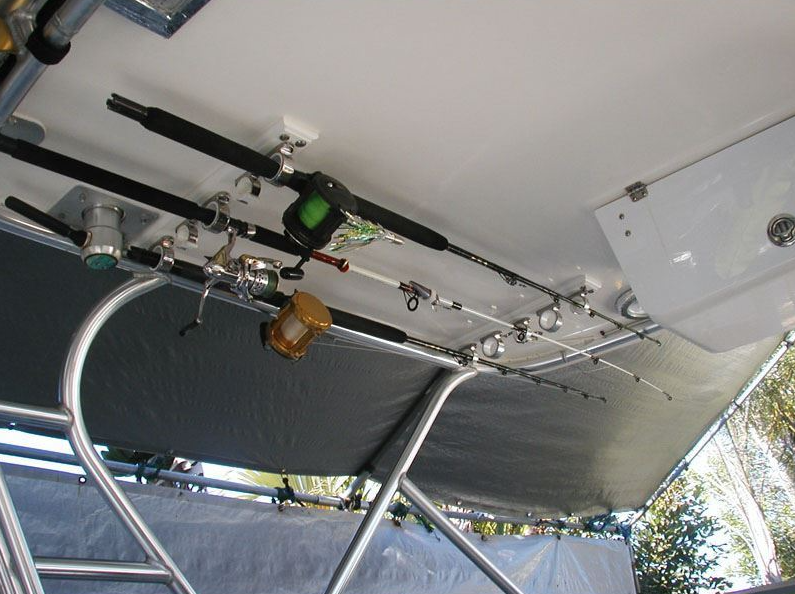 Another great option for storing light tackle spinning rod and reel combos is our 3- and 4-Rod Aluminum and Poly Aluminum Rod Racks. These can easily be mounted to the sides of consoles and the Poly Aluminum Rod Racks feature slots for knives and pliers. 
For anglers on a budget, we also offer 2-, 3- and 4-Rod Polyethylene Rod Racks that feature slots for knives and pliers, and easily mount to the sides of consoles. Additionally, we have 2-, 3- and 4-Rod Bungee Rod Holders – a great way to add extra rod storage overhead and under gunnels.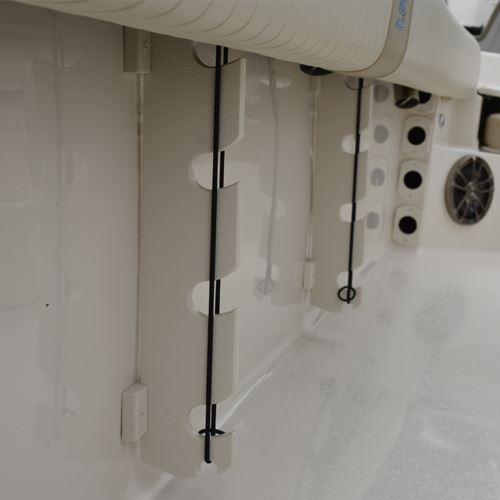 WELD-ON ROD HOLDERS, REPLACEMENT LINERS & MORE
Explore our entire offering of fishing rod holders and rod holder liners here.
Stay up to date on all things TACO Marine by subscribing to our newsletter below and following us on YouTube, Instagram, Facebook and Twitter.