TACO is very proud to sponsor S.H.A.R.E. and its annual charity KMT Fishing Tournament – taking place September 23 through 26 at Stoked in Carolina Beach, North Carolina.
The nonprofit's mission is to support special needs children and their families, and families facing difficult circumstances.  
"S.H.A.R.E. stands for SUPPORT, HOPE, ASSIST, REFLECT and EMPOWER," reads the foundation's website sharenc.org. "We encourage the concept of 'Paying it Forward' throughout our community. We strive to provide for the families who WANT to help themselves and are willing to help others in the process."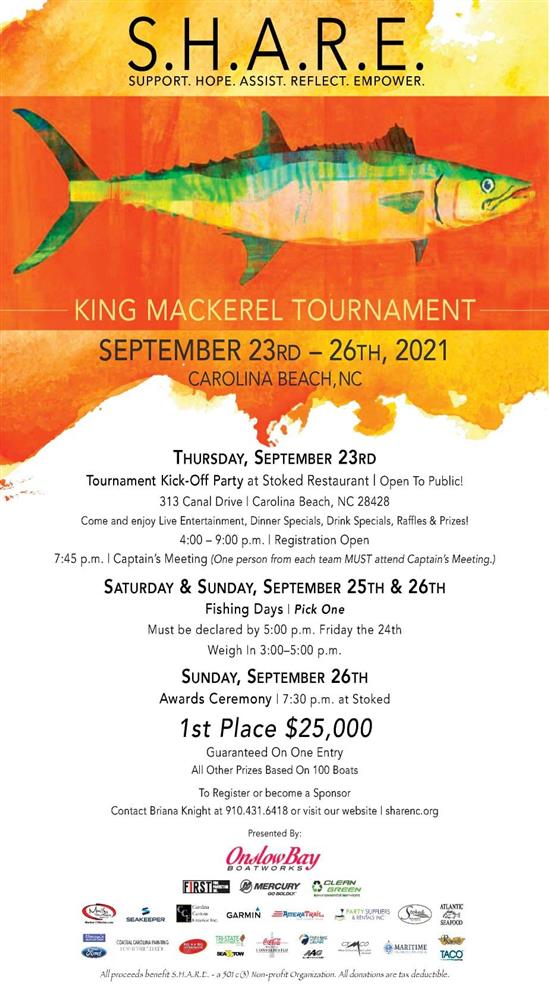 Heading into its 10th year, TACO donated $1,000, a pair of Grand Slam 280 Outrigger Mounts and 15' Aluminum Tele-Outrigger Poles toward the event's silent auction. 
S.H.A.R.E. Executive Director Briana Knight said the KMT is the organization's primary fundraising event. Money raised from the 2021 KMT is used to support two programs throughout the year – 'Tis The Season to S.H.A.R.E. and Pay It Forward.
"Our 'Pay It Forward' program provides necessary provisions for a child or family," explains Knight in the foundation's sponsorship letter. "Examples of provisions include funding for a walker or other assistive devices, daycare tuition assistance, extracurricular activities funding, and assistance with necessary bills for families in crisis."
"'Tis the Season to S.H.A.R.E.' is a holiday assistance program," she continues. "Children are referred by teachers, principals, case managers and other community providers, not by parents. The program provides toys and clothing to children in five [North Carolina] counties. In the past 10 years, well over 2,600 children have been reached through this program." 
TACO OEM Sales Manager Mark Henderson, a North Carolina-native and Captain of the Liquid Fire Fishing Team, has been a long-time supporter of the foundation and its annual KMT. 
"The S.H.A.R.E. King Mackerel Tournament is always an exciting event for its participants," said Henderson. "Briana Knight and the team of volunteers work diligently to produce an exciting tournament with top-notch payouts and a quality captain's meeting. The dedication of the event to support the local families that have children with special needs is evident and greatly appreciated in the community."
To learn more about S.H.A.R.E., donate and to register for its KMT, visit the foundation's website sharenc.org. Additionally, you can find the nonprofit on Facebook and Instagram.