This time of year, we're gearing up for spring and summer on the water, which can mean making repairs, renovations and upgrades to your boat. If you find yourself asking, "how much does it cost to replace boat rub rail?" Don't fret! Our convenient all-in-one Rub Rail Replacement Kits are affordable.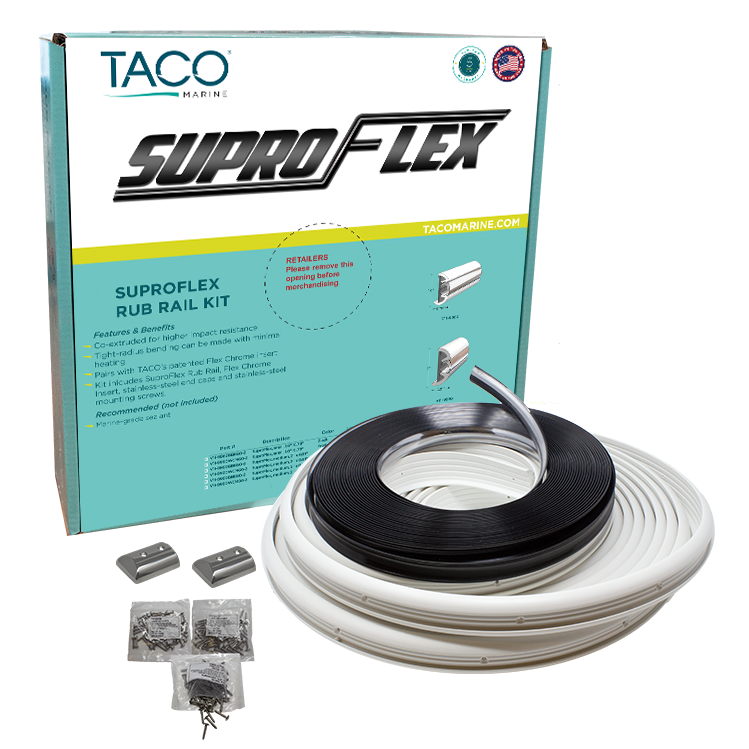 At TACO, our Rub Rail Replacement Kits start as low as $229.99. Additionally, many of our retail partners offer excellent and affordable prices on TACO Rub Rail Replacement Kits. Find a retailer near you here. 
Whether you buy direct from us or through one of our many retail partners, replacing your boat's rub rail is affordable with a TACO Marine Rub Rail Replacement Kit. These kits are designed to be universal and can be used for most boat types. Choose from nine different boat Rub Rail Replacement Kit profiles, which come in different shapes, sizes and colors, depending on your needs.
Each boat Rub Rail Replacement Kit comes with one continuous coil of Flexible Vinyl Rub Rail, a Rub Rail Insert (if needed), stainless steel screws and end caps. 
If you're not sure which rub rail profile is correct for your boat, check out our innovative Rub Rail Selection Guide online. Simply select your boat manufacturer and see what Rub Rail Replacement Kit comes up. If you're still not sure, or a kit is not listed, contact our expert Technical Support team today! Our experts are well versed on TACO boat rub rail products and can help you find the right profile and kit for your vessel. 
If you need to replace or repair stainless steel rub rail, aluminum rub rail or rigid vinyl rub rail, we also offer these in long length profiles. We are proud to offer the industry's best prices on long length boat rub rail, but please keep in mind that shipping can be more expensive. Anything more than 8 feet in length requires a special carrier service. Because of this, a special shipping rate could be applied at checkout. For more information on shipping long length stainless steel rub rail, aluminum rub rail or rigid vinyl rub rail, click here.
For step-by-step tips on how to install TACO Rub Rail to your boat, check out the videos below featuring Captain Mark Henderson from the Liquid Fire Fishing Team.
Step-by-Step Instructions for How To Install SuproFlex Rub Rail
Installing NEW Rub Rail with Capt. Mark Henderson
Don't forget to subscribe to our newsletter below and follow us YouTube, Instagram, Facebook and Twitter.