Cancer survivor, sailor and second-generation boat builder Johannes "Jopie" Helsen plans to embark on a $1 million around-the-world fundraiser for the Leukemia & Lymphoma Society.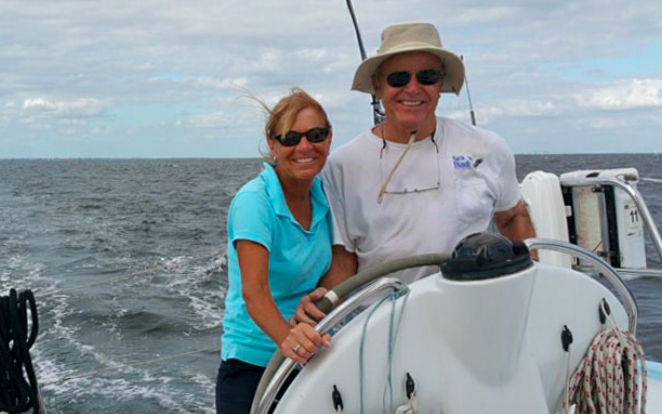 Heidi Trilsch and Jopie Helsen are set to sail around the world to fundraise $1 million for the Leukemia & Lymphoma Society.
Born in Holland and now living in St. Petersburg, Fla., Helsen, the owner of Sailor's Wharf Yacht Yard, was diagnosed with throat cancer five years ago after experiencing pain and soreness during a sailing trip in the Mediterranean.
"I found myself rubbing my neck and I figured, with my luck, I better go see a doctor," said Helsen, who was treated at the H. Lee Moffitt Cancer Center & Research Institute in Tampa, Fla.
Inspired by the many patients and survivors he met during treatment, Helsen knew he wanted to do something to help the fight against cancer.
During the United States Sailboat Show in Annapolis, Md., he met Marty Siederer of the Leukemia & Lymphoma Society [LLS] and Product Lead for the Leukemia Cup Regatta. Helsen discussed with Siederer his idea – to raise $1 million during a round-the-world sailing fundraiser for the charity.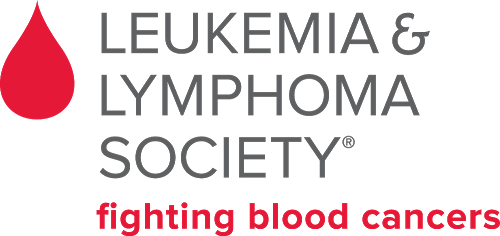 "We're so grateful for what he's done to support and increase awareness of our organization," said Siederer, who's been with the LLS for nearly 40 years. "People like Jopie are just incredible ambassadors, whether you're into the sailing community or not, to help cure cancer. That's a very high quality and we're so grateful for his help."
With Siederer's support, the first step toward such an adventure meant that Helsen, alongside his girlfriend Heidi Trilsch, needed a boat – a hearty, seaworthy vessel built to withstand the 15-month voyage known as the World Arc.
Hosted by the World Cruising Club, World Arc is a 26,000 nautical-mile trade wind circumnavigation that departs Jan. 12, 2019 from Saint Lucia island in the Caribbean to sail around the globe – most of which in the southern hemisphere.
While Helsen and Trilsch, whose stepmother is a Lymphoma survivor, will have long stretches at sea (the longest leg is 2,980 miles across the Pacific), World Arc includes opportunities for on-shore exploration – with close to 30 stops around the world at destinations like the Galapagos Islands, Bora Bora and Cape Town, South Africa.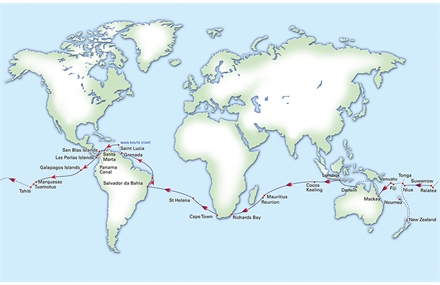 Illustration courtesy of the World Cruising Club.
Finding the right boat for such a venture was no easy task. For Helsen, it not only had to be strong and capable for the harsh conditions at sea, but also comfortable and spacious enough for he and Trilsch, a videographer and an occasional crew member.
"We actually made an offer on two different boats that we did not get," said Helsen, aged 71. "And now, looking back on it, we realize how impressive this boat is."
With its sky-blue hull and matching spinnaker, Helsen purchased the aptly named and visually stunning SKY – a 57-foot dual-helm Vaudrey Miller monohull built in New Zealand and designed by Simonis Voogd in 2004.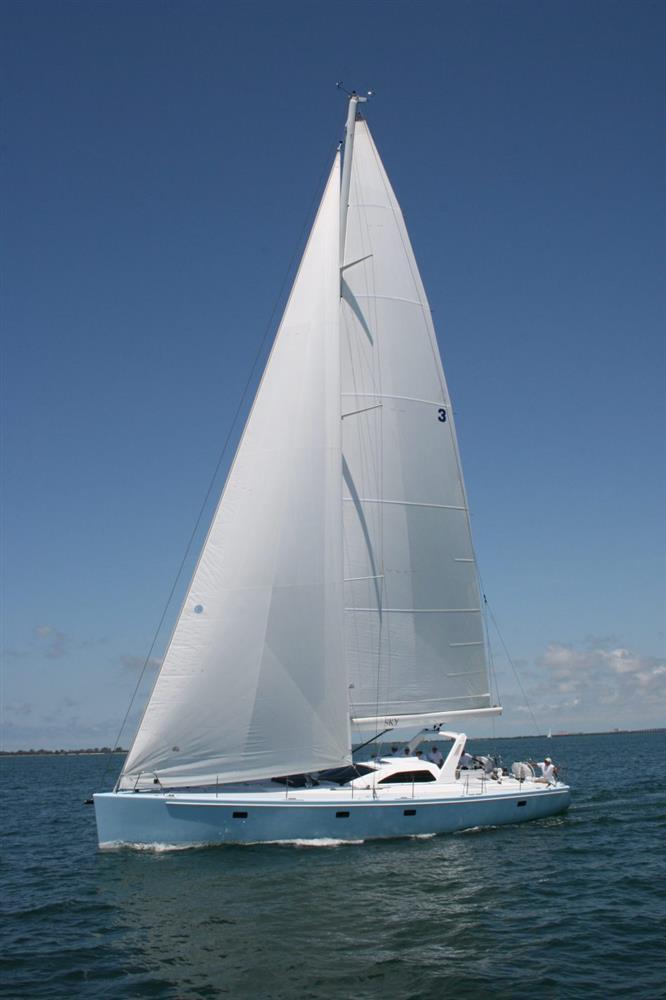 SKY – the 57-foot monohull Helsen and Trilsch will sail around the world.
While originally built for the extremes of circumnavigation, Helsen said SKY had taken a beating over the years and needed some remodeling and upgrades ahead of the 2019 voyage.
Over the course of nearly one year, Helsen and his 13-person crew at his yacht yard worked on renovating SKY– outfitting the boat with a self-furling boom, enlarging the cockpit and making it possible for Helsen to sail single-handedly, should the need arise.
Because 100 percent of donations go to the LLS, Helsen said he needs sponsors to help offset the costs and supply parts and equipment.
When TACO Marine VP Mike Kushner got wind of Helsen's fundraiser and SKY renovations, he arranged for the company to donate brand new Rigid Vinyl Rub Rail with a stainless-steel insert, LED lights, a custom-made helm chair and a pedestal for the boat.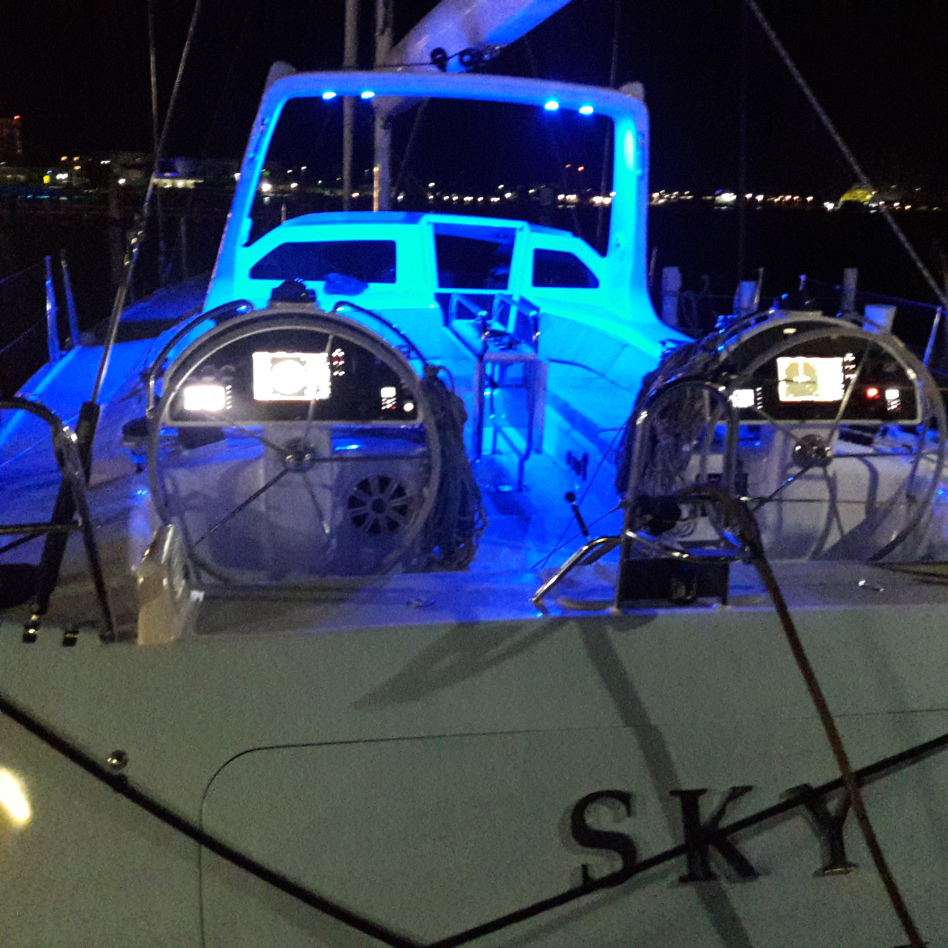 TACO donated new LED Lights, which help illuminate SKY's cockpit for enhanced safety at night.
"He's one of these guys who's very passionate and very active in the boating industry," said Kushner, who first met Helsen more than 30 years ago. "Having done the TACO Marine Project Boat fundraiser myself, I have a better sense of appreciation for what he's trying to do. It's a really cool project."
Another fan of Helsen's fundraiser and someone with many friends and relatives diagnosed with Lymphoma is National Marine Manufacturers Association President Thom Dammrich, who's known the sailor for several years because of his participation in the marine industry.
"I admire his adventurous spirit," said Dammrich, who also has an endorsement published on Helsen's website. "This is a life adventure and for a great cause. I wish them a safe voyage and return."
With six months to go before he sets sail, Helsen said there's still plenty to do on SKY to prep for departure, including installing new satellite equipment, rigging new electronics and conducting sea trials. He also hopes to recruit a few more sponsors to help fund the expenses while also raising awareness for the cause.
To donate to Helsen's SV SKY 57 fundraiser for the Leukemia & Lymphoma Society, visit svsky57.com and its donation page.
One hundred percent of every donation toward Helsen's round-the-world fundraiser goes to the LLS, which is the largest nonprofit dedicated to curing blood cancers. Since 1949, LLS has donated more than $1.2 billion toward cancer research. The charity also provides patient support and has a grassroots network of more than 100,000 volunteers advocating at state and local levels for policy change and program funding.
In the coming months, we'll be writing more about Helsen and following his journey around the globe. For more updates, follow us on Facebook, Twitter, Instagram and YouTube.