Captain Betty Bauman is a pioneer in creating and directing Ladies, Let's Go Fishing – a nationally-recognized program designed to build confidence in women and enable them to enter a sport they can share with family and friends. TACO is a proud sponsor of Ladies, Let's Go Fishing, which uses a pair of Grand Slam 390 Outrigger Mounts and 16' Carbon Fiber Tele-Outriggers on the program's Scout 251XSS. Read first hand about Captain Betty and why she developed Ladies, Let's Go Fishing.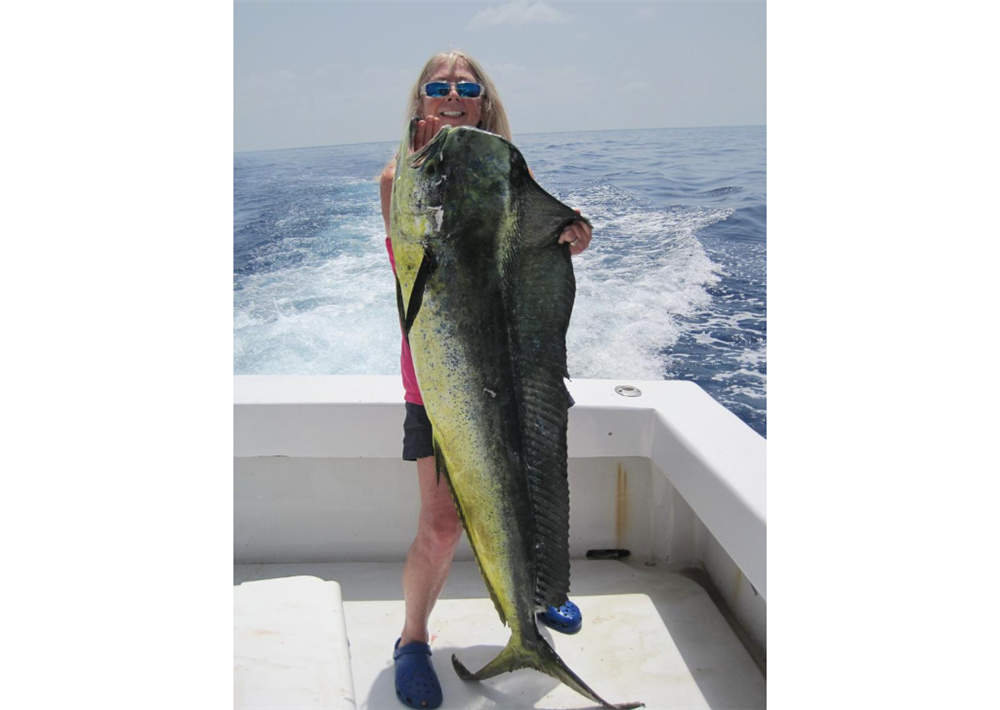 My love for fishing became my business more than 23 years ago, after listening to a speech at the ICAST trade show by Mike Hayden, American Sportfishing Association President, concerning the declining numbers of anglers.  
It was then I realized the opportunity to show more women, like myself, how to enjoy the sport. With my background in marine industry PR I was poised to create a program I would have liked to attend, versus learning from my husband, a champion tournament angler with little patience to teach me on the water. I wanted to learn from someone else, practice skills hands-on, go fishing and have a chance to meet other women with similar interests. 
I've always liked to fish but am not the expert. While I have made plenty of fishing mistakes, some of my most spectacular experiences have been while fishing. 
Statistics About Women & Fishing
Women are more than 50 percent of the population, yet less than one-third of the anglers. Female participation in the sport was growing faster than male participation. (U.S. Fish and Wildlife Service).
Of the 8.7 million new participants in a historically male-dominated sport, Americans who tried fishing for the first time or returned to the sport skewed heavily female. Though females represent fewer than one-third of current fishing participants, they represent more than 47 percent of those interested in fishing. Additionally, 42.9 percent are in the 45-plus age bracket. (Southwick & Associates, 2014.)
What prevents women from entering the sport, and how we responded with our event offerings:
Husband/boyfriend says fishing is for guys-only, won't take them
Can't learn from others on the boat – no time to instruct.
Want to take their kids fishing but nobody knows how
They have to stay home with kids while husband fishes
Too early in the morning
No one else to fish with
Don't like touching slimy fish
Seasickness
Feeling like "the alien" when entering a tackle shop
Lack of knowledge and confidence regarding fishing skills (being on the team when you don't know the game)
Unable to launch or drive a boat
Yelling / condescending comments / afraid to ask stupid questions 
When ladies get invited to go fishing, everyone is too busy to teach. Our premise: Learn BEFORE you are in the hot seat and people are yelling what to do. Learn the strategy and terminology so you have a clue! Realize that mistakes are the path to perfection.  
Fishing on a boat is a team sport. Everyone has a role, even if they don't fish. We talk about parts of the boat, such as outriggers – why you need them and how they help angers catch more fish. (Thanks to TACO Marine for being on our support team!) 
What I did as a solution:

 
Develop a multi-series of non-intimidating educational programs (Ladies, Let's Go Fishing/LLGF) with class presentations, hands-on skill practice, networking and a chance to fish on the water. 

Round up fishing guides as presenters and charters for events in various regions of Florida. 

Reach out to sponsors for financial resources and demo product. We needed vehicles, a utility trailer, a showcase boat and tackle for education and fundraisers. It happened! Our sponsors make all this possible.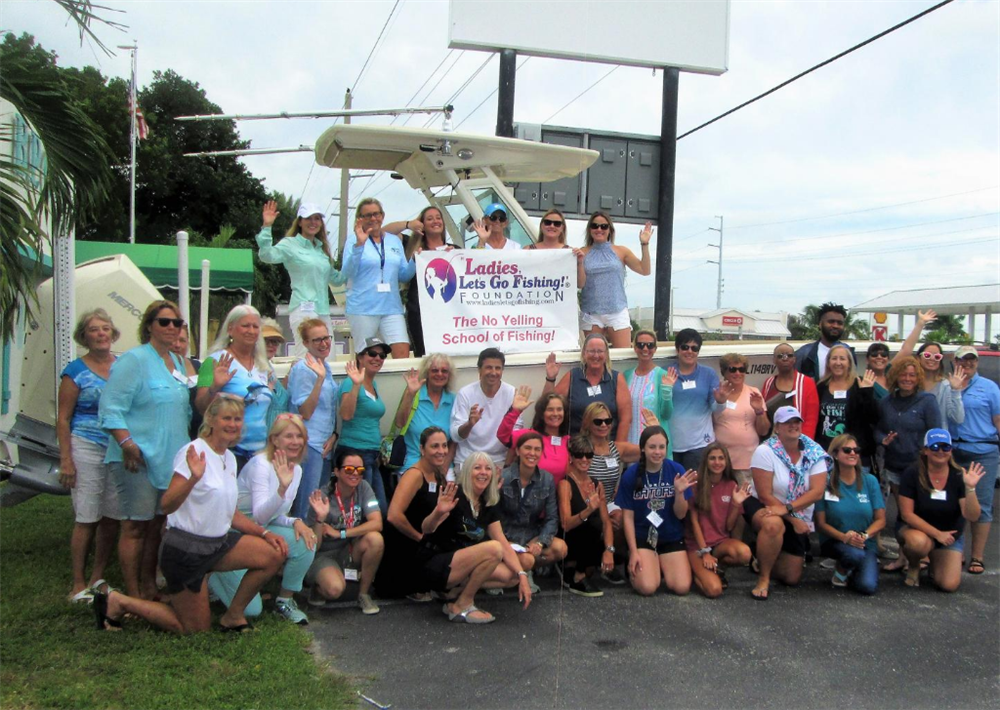 LLGF curriculum includes inshore, offshore, bottom, fresh, beach and fly fishing, depending on what's prevalent in the area. Most seminars span over a weekend with a networking evening, classes, practice and fishing the last day. There's usually a Fishing Basics portion to cover fishing equipment and terminology.  
The program expanded to various regions in Florida, fly fishing events in Colorado, other states and international fishing trips and excursions to Costa Rica, Alaska, Bahamas, Cuba and more.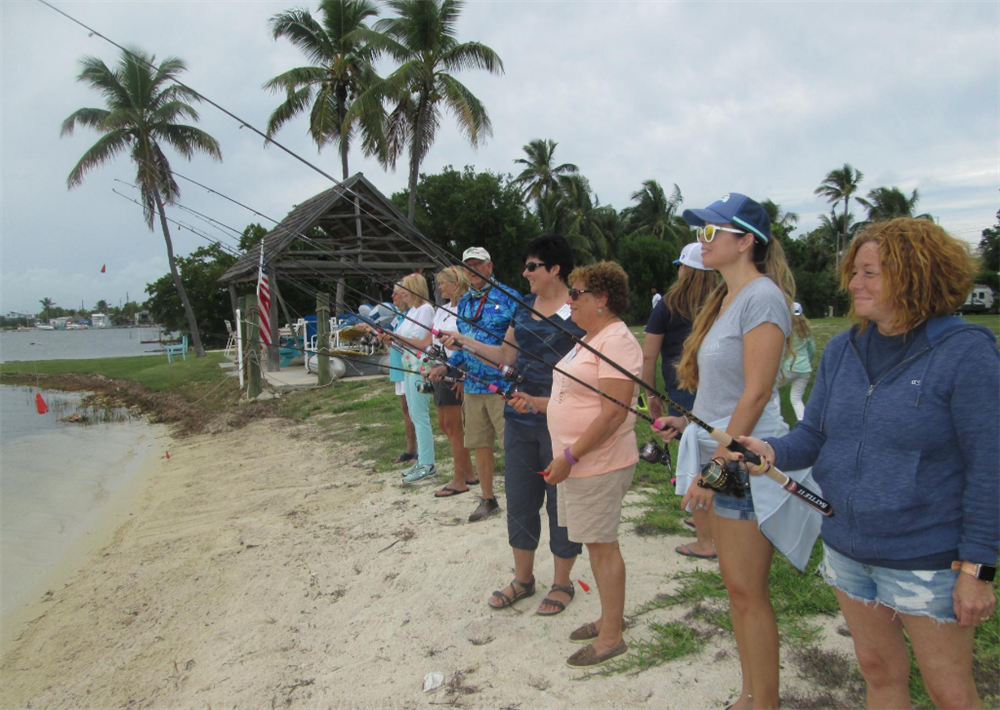 We offered a special program for women bringing their teens. We added adventures, such as scalloping, and a fish cooking class. We expanded into tournaments designed specifically for beginners and added fundraisers for the women to win fishing gear. 
At some events where we had a pool, we put a guy in the water to be "the fish" and reeled against him. Then we let the ladies try it.  
LLGF welcomes women of any origin – and they come because of the non-intimidating atmosphere. At LLGF, women feel comfortable asking questions they would not dare to ask at traditional seminars. You have to learn to walk before you can run. 
Hands-on offerings at the No-Yelling School of Fishing, depending on location:
Habitat Conservation, why, how they can make a difference

Landing/Releasing/Gaffing

Casting

Backing a Trailer

Reeling Against Heavy Pressure

Net Casting

Knot Tying

Hook Usage

Bait Rigging

Lure Rigging

How to put hook in live shrimp
On Sundays and in the Keys, multiple days, we charter boats for women to try their new skills. Many women catch their first fish ever. It can be compared to learning a new language – those who practice will retain the knowledge.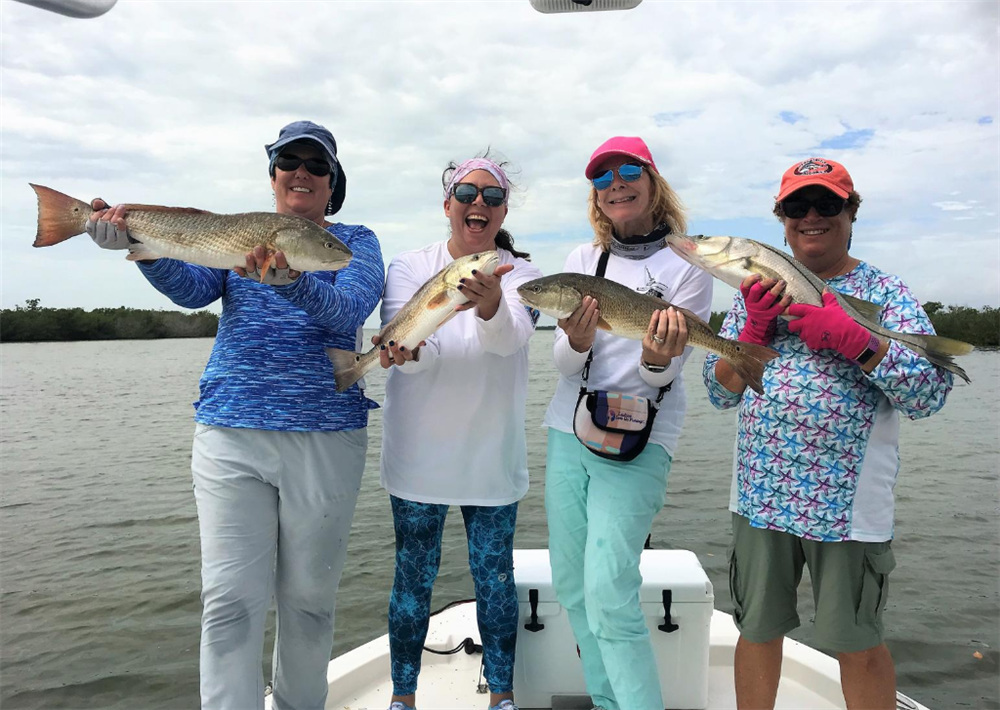 A Hit from the Start
The first class in 1997 was filled with 120 women – outstanding results. More than 20 years later, we're still doing it. More than 100 seminars, 9,000 graduates, not to mention the other people new female anglers influence as they don't want to fish alone (average is roughly x 4).
Most of what I do with LLGF is computer-based – website work, communications, planning, sponsor development/relations, accounting, image/video management, IT and promotions. I teach what I know about fishing and bring in local guides as speakers who do it every day. 
The Times, They Are a Changin'
Role models are changing. Women and men are sharing the responsibilities of earning household incomes, as well as the need for recreation. With much time spent on electronics/phones, families are looking for a way to spend quality time together. With increasing single parent households, mothers, grandmothers and aunts must learn to fish to teach their children.  
LLGF is Making a Difference! The Media has been Our Friend.
17 million media exposures annually in many years have put fishing on the radar of women around the world. We have been covered by almost every marine and fishing publication, as well as USA Today, Southern Living Magazine, The Wall Street Journal, CBS/The Early Show and so many more. 
When I started this program, I did not know how long it would last. It's growing and sponsors and donors are realizing the impact of women on the sport. Women are attending our seminars on a repeat basis. They are bringing their families, friends, neighbors and more.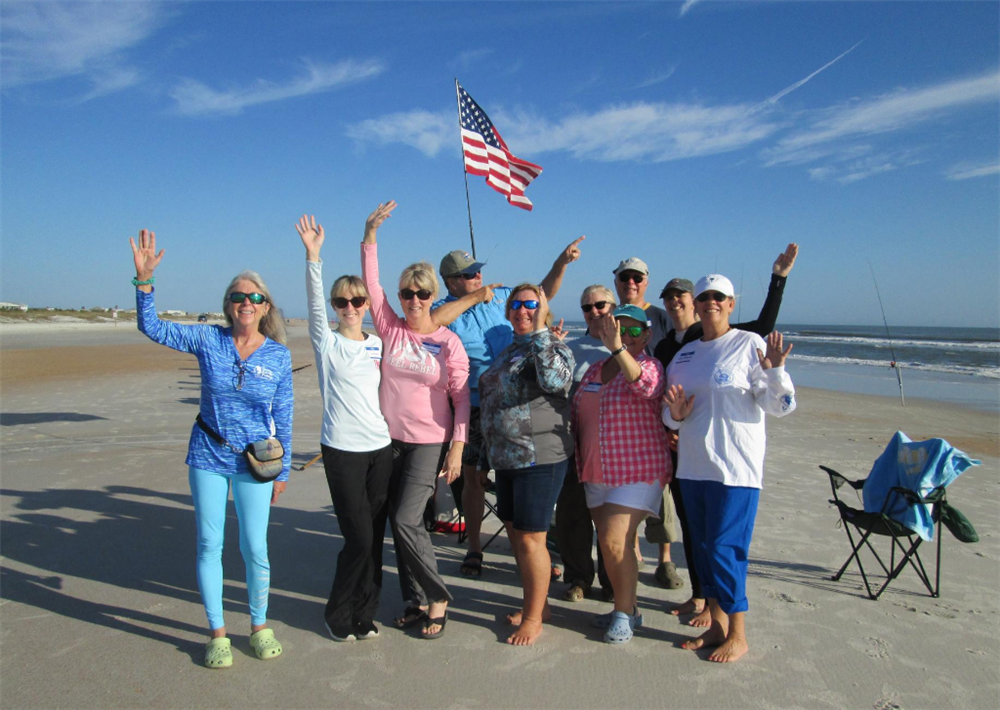 Pandemic Hurdle Rocked Our World…We Rocked Back!
Just as we completed planning for a full schedule of eight events in 2020, the world as we knew it stopped. It takes two months to plan a single event. Person-to-person contact for hands-on training and education became restricted. Events had to be rescheduled, some replaced with virtual training, but we did keep the fishing opportunity, with sanitary measures in place. 
At the beginning, my hope was, "At least I can still go fishing!" Then the launch ramps and access to the Keys closed. My video podcast on YouTube "The Fishing Buzz" and a virtual meeting series was already in development, so I focused on that.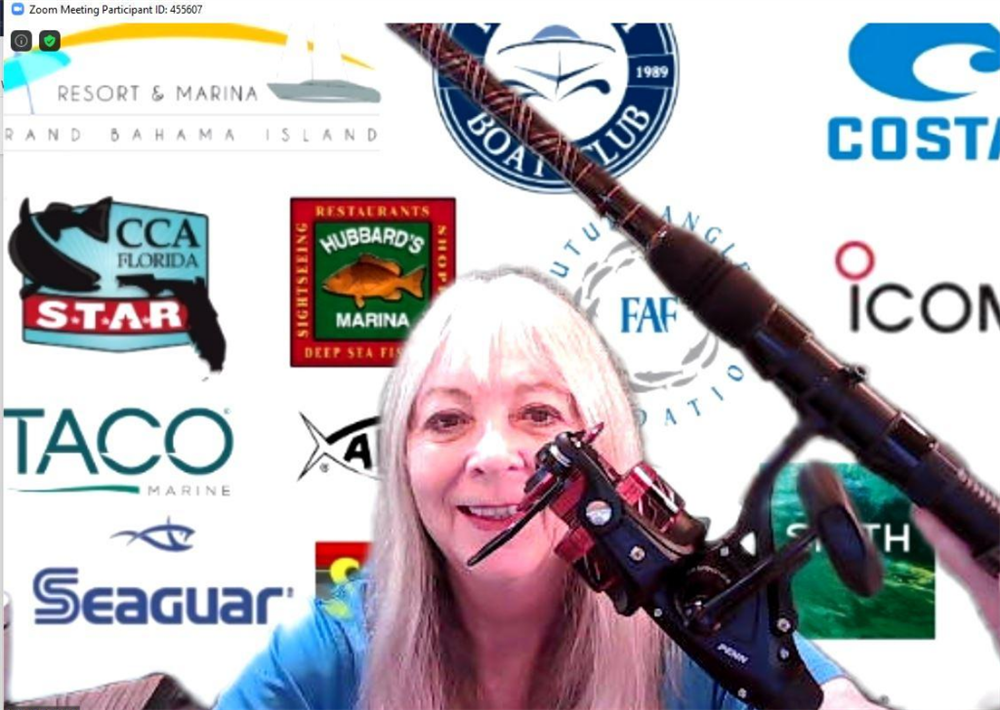 The virtual meeting series has brought the rainbow after the storm – connecting women around the world who like to fish. This has strengthened our reach even more, plus given ladies a chance to win the raffle! When the world changes, we change with it!
Ladies, come join us and check out the discounts for teens. You can register your male counterpart too to learn as a couple!
For more information about Ladies, Let's Go Fishing, call 954-475-9068, e-mail info@ladiesletsgofishing.com, or visit their Website and Facebook page.