The ShadeFin boat shade is a portable and adjustable shade system designed to protect you and your passengers from the sun while boating. Here are the steps to use the ShadeFin boat shade: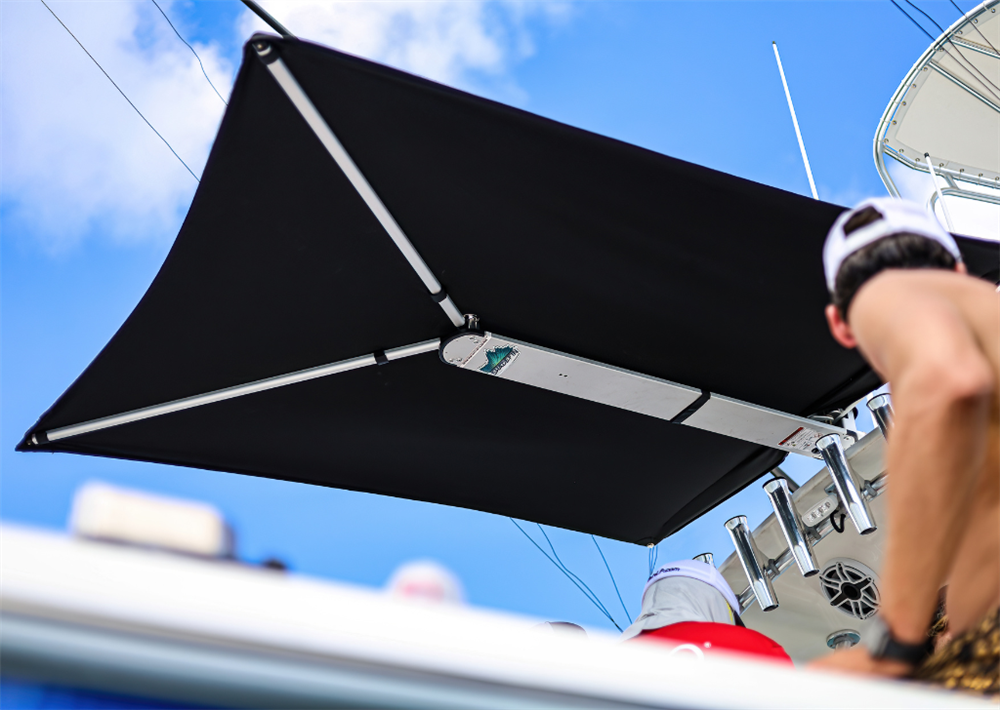 Determine the ideal location: Choose the location on your boat where you want to install the ShadeFin. It is recommended to install it in a location that provides maximum coverage while still allowing room to move around on the boat.

Install the mount: Using the 

Fixed Rod Holder Mount

 provided in the 

ShadeFin Kit

 or one of the 

sold-separately

 mounting options, install the mount in the chosen location. The mount should be secured tightly to the boat to ensure stability.
Insert the ShadeFin pole: If using the 

Telescopic Rod Holder Accessory

, insert the pole into a rod holder, set the desired angle and secure it in place using the tightening knob and pin. Then insert the Fixed or 

Adjustable Rod Holder Mount

 into the top of the pole.

Insert the shade: Once your mount is secured, attach the ShadeFin by depressing the pin on the post, inserting the post into the mount until the pin pops out. When the pin pops out, the ShadeFin is locked in place.

Adjust the shade: If using the 

Telescopic Rod Holder Accessory

, the ShadeFin positioning can be adjusted both vertically up to 67" and horizontally 360º. If using the 

Adjustable Rod Holder Mount

 in either a rod holder or the top of the Telescopic pole, adjust the upward angle by loosening the knob on the mount and then tightening when the desired position is met.

Enjoy the shade: With the ShadeFin properly installed and secured, you can now enjoy your time on the boat without worrying about getting sunburned or overheated.

Remove the ShadeFin: When it's time to pack up, simply remove the ShadeFin from the mounts and store it in a safe and secure location. ShadeFin comes with a convenient 

carrying case

 for easy transportation and storage.
It's important to note that the specific steps for using the ShadeFin boat shade may vary depending on the mount. Be sure to consult the instructions for specific guidance on installation and use.

If you're ready to add the most innovative and reliable boat shade system to your boat, shop now and save 10% exclusively on tacomarine.com with code TACOGPT at checkout.