Over the past three years, beautifully painted tiny house-like structures filled with children's books have cropped up throughout Fort Lauderdale. Usually mounted in or around public areas, these mini libraries are from Action for Literacy – a nonprofit that aims to help children become functionally literate.
Action for Literacy [AFL] is the brainchild of retired CPA Alan Garber and Chief Service Officer for the City of Fort Lauderdale Jorg Hruschka, who were inspired by the nationwide nonprofit Little Free Library. Because of Garber, Hruschka and a team of volunteers, 70 AFL libraries are installed throughout the city.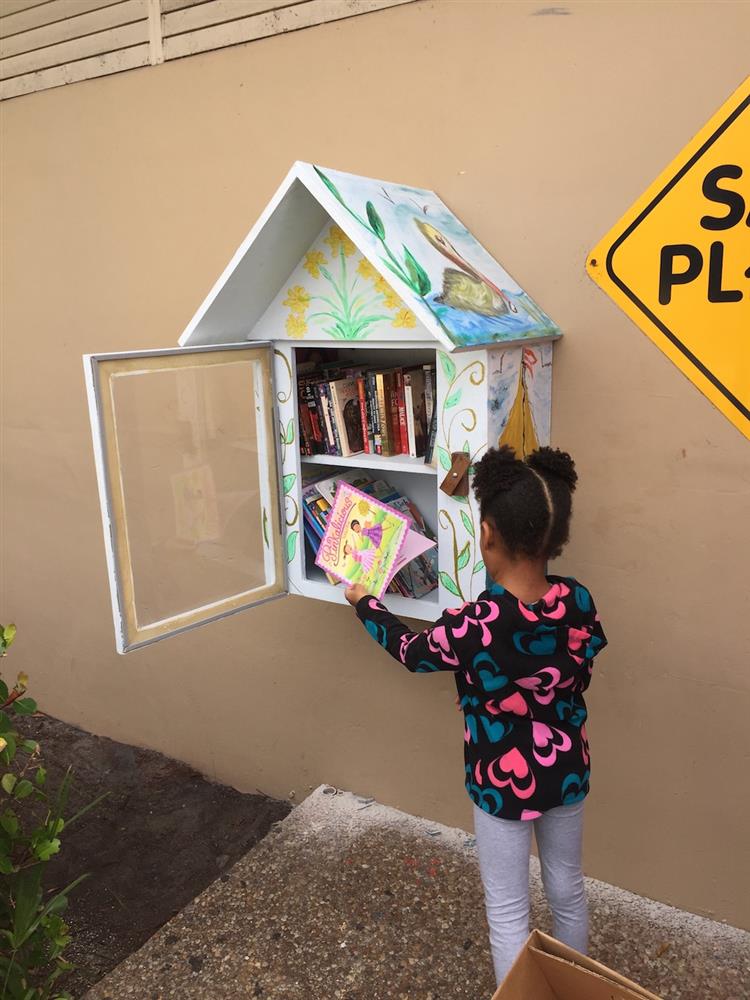 A young girl selects the book "Pinkalicious" from an Action for Literacy mini library in Fort Lauderdale. Photo courtesy / Action for Literacy.
"Reading is a critical bridge to success in school, work and life," states the "Fort Lauderdale Reads" executive summary about AFL. "Children generally are learning to read until third grade. By the fourth grade, they should be reading to learn.  Students who don't read well by the end of third grade have increasing difficulty to keep up and are four times as likely to drop out of high school. Research shows that children who learn to read at an early age will not only read more independently, but also achieve more in math, social studies and science, and are more likely to pursue higher education. Early literacy is a key strategy to success."
Unlike Little Free Library's mantra of "take a book, share a book," Garber said AFL wants children to take a book for keeps.
"These kids where we put the libraries usually don't own any books," said Garber. "We're happy they take the books and have a library of their own at home."
Garber said the AFL team strategically built, painted and placed the 70 mini libraries (and counting) in locations he calls "book deserts" – areas with high child and family traffic who likely have little-to-no books of their own or difficulty accessing the public library system.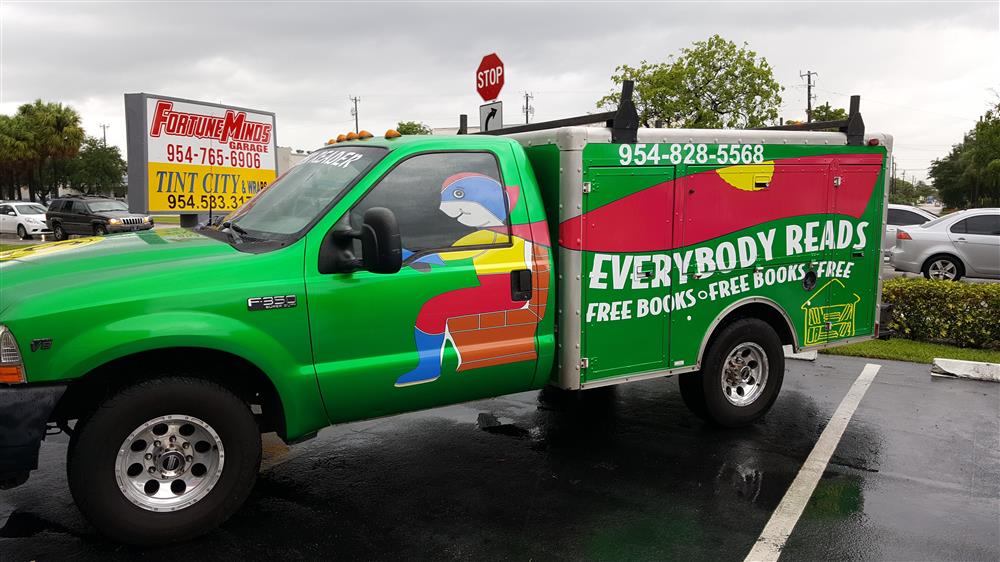 To stock the 70-plus mini libraries in Fort Lauderdale, Action for Literacy volunteers distribute books with this eye-catching truck, which was donated to the nonprofit. Photo courtesy / Action for Literacy
Since incorporating the mini libraries throughout the Fort Lauderdale, Hruschka said the community response has been positive. In fact, several residents near school zones, individuals he calls "stewards," are asking for mini libraries installed outside their homes – allowing for even more book access for children.
"It's our goal to make sure that no child needs to walk more than 10 minutes to get a free book," said Hruschka. "That means that we're putting these at the homes [and businesses] of caring stewards, throughout the community, especially in the northwest section." 
Because of the take-home nature of AFL, Garber and Hruschka are continually seeking out new and gently used books for the libraries. 
Additionally, because AFL aims to install 150 mini libraries throughout Fort Lauderdale, Garber said he is hoping to grow the volunteer base and establish a larger designated book drop off location. Currently, book donations can be received at Fort Lauderdale City Hall. 
To generate continual interest in AFL, Garber said the nonprofit has partnered with local homeowners associations, churches and area schools to do annual book drives. He also encourages the involvement of local businesses and corporations to either host a book drive or to install their own mini library, if the business location has the need.
"A few corporations sponsored their own libraries," said Garber. "They have a vested interested."
At TACO, which is headquartered in North Miami, we're hosting a holiday book drive for new or gently used children's and young adult books, which will be donated directly to AFL.
"Learning to read at a young age is critical toward success in school, earning a high school degree and holding down a job," said TACO VP of Sales & Marketing Mike Kushner, a lifelong friend a Garber's. "Without a good reading ability, your future is very limited. All kids deserve to be successful in school and in life. Helping a child to read is one of the greatest gifts you can pass down to them." 
For anyone interested in volunteering for or donating to Action for Literacy, you may drop off books and/or contact Hruschka at the Fort Lauderdale City Hall located at 100 N. Andrews Ave. Anyone can also drop off books at our TACO headquarters located at 50 N.E. 179th Street in Miami or can contact AFL directly through its Facebook page. 
Together, Hruschka and AFL are also hosting the Fort Lauderdale United Day on Jan. 19, 2019. In addition to performing community service in honor of Dr. Martin Luther King, Jr., United Day, in partnership with Action for Literacy, also hosts a Reading Corner for children. For more information on how you can get involved in United Day and AFL, visit www.fortlauderdale.gov/volunteer.