An estimated 165 boats are slated to compete in this year's ChaseN'Tailz Fishing Tournament Sept. 8 – a Florida charity event created in memory of Chase Warren and dedicated to helping families with children who have rare diseases.
The story of ChaseN'Tailz began Oct. 1, 2012, when Chase Edward Warren was born – a dream come true for parents Summer and Jay, who struggled for years to conceive. While baby Chase first appeared healthy and normal, signs that something was wrong quickly began to surface.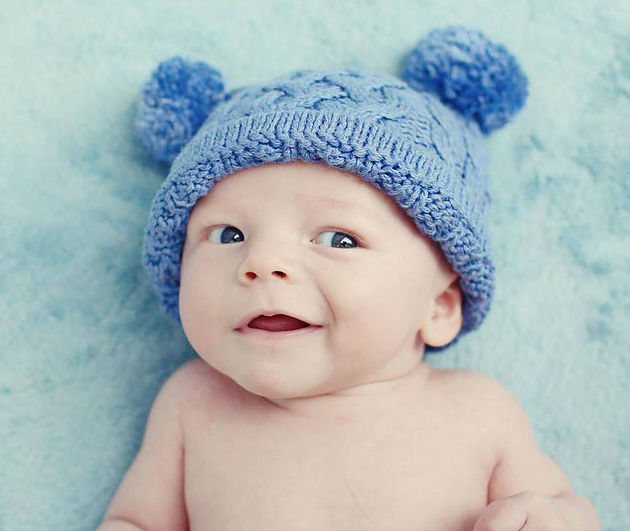 Chase Edward Warren passed away Aug. 7, 2013 from Gaucher Type 2 – a rare neurological disease.
In the 10 months that followed Chase's birth, he lost his ability to move, his organs became enlarged and his breathing labored. Meanwhile, doctors were stumped at the cause because his symptoms were so varied and severe.
Baby Chase passed away Aug. 7, 2013. Two days later, he was officially diagnosed with Gaucher Type 2 – a rare neurological disorder that has no treatment or cure.
Formerly called Infantile Gaucher Disease, the Gauchers Association describes Type 2 as a rare, rapidly progressing disease that affects the brain, spleen, liver, lungs and bones.
"Fewer than 1 in 100,000 newborn babies have Type 2 disease," states the Gauchers Association. "Babies usually appear normal at birth but develop symptoms by the age of 3 to 6 months."
As fishing and boating enthusiasts who own Canvas & Towers in Lake Park, Florida, Summer and Jay wanted to host a marine-based event in honor of Chase. In 2013, they launched ChaseN'Tailz Fishing Tournament – helping to spread awareness about rare diseases and raise funds for research and support.
"Most of these diseases are closely related and research for one greatly impacts 16 others," writes Summer on the foundation's Web site chasentailz.com. Summer and Jay have since had a daughter, who is a healthy 2-year-old.
Now in its fifth consecutive year, ChaseN'Tailz has donated more than $120,000 toward research and also to deserving families and organizations.
In addition to the popular fishing tournament, ChaseN'Tailz also hosts four smaller events throughout the year, including a youth painting class, a Calavares Cantina party, the tournament kick-off party and a fundraising booth at the Palm Beach International Boat Show.
On the day of the tournament, ChaseN'Tailz hosts a free community festival, which includes a silent auction, raffle, waterslide, games, vendors, a car show, food and drinks.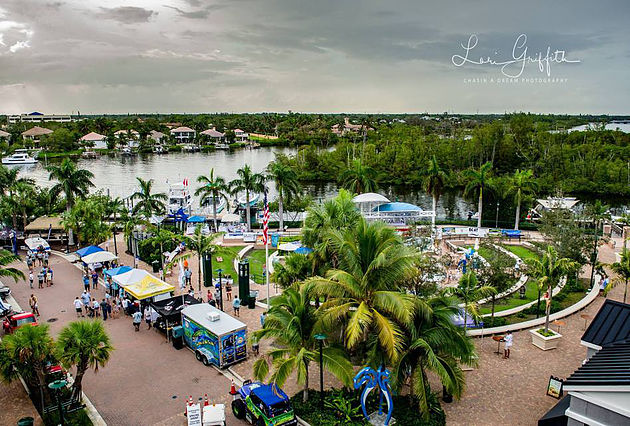 An aerial view of the tournament-day festival in 2017.
This year, TACO President Jon Kushner arranged for the marine manufacturing company to donate a pair of Grand Slam Outrigger Mounts and Tele-Outrigger Poles, a rigging kit, filet table and poly tumbler holders to the ChaseN'Tailz silent auction.
"The charity is in honor of Chase Warren, a child who passed at an unfortunately early age, similar to the I'M LOGAN IT Foundation," said Kushner, whose nephew Logan passed away in 2012.
Kushner first met Jay at the 2017 Fort Lauderdale International Boat Show during the TACO Marine Project Boat Raffle Fundraiser for charity.
"Chase's family is similar to ours, a marine industry family," said Kushner, "so the charity and their passions are very parallel to ours."
This year, Summer said some of the money raised through ChaseN'Tailz will go directly to the families in need who have a child with a rare, life-threatening disease – helping to pay medical bills, utilities, mortgages and other expenses.
Another benefactor is the Quantum House, located on the campus of St. Mary's Medical Center in West Palm Beach, Florida. The Quantum House provides a safe haven for families to stay whose children are receiving treatment for serious medical conditions. ChaseN'Tailz has helped support the Quantum House since the tournament's inception in 2013.
"The Warrens, as well as their extended family and friends, have provided a meal each year for our 30 families (75 people) who reside at Quantum House, in memory of their son, Chase Warren," wrote Megan Thompson, Quantum House manager of family programs and operations, in a statement to TACO Marine. "These meals mean so much to our families who are going through traumatic situations with a child, either in the hospital or receiving medical treatment."
ChaseN'Tailz also helps support the Live Like Jake Foundation, which promotes drowning awareness and water safety in memory of Jake Morrison, who passed away in a drowning accident in 2013.
"We have been able to provide 61 scholarships for the [Infant Swimming Resource] self rescue swim lessons in 2018 right here in Palm Beach County," wrote Keri Morrison, founder of Live Like Jake, in a statement to TACO Marine. "Drowning is the leading cause of death in children 1 to 4 years old, with five deaths last year just in Palm Beach County."
For Summer and Jay, supporting families with children who have a rare disease and organizations in need through ChaseN'Tailz is a way to keep the memory of Chase alive.
"As a grieving parent, your biggest fear is that your child will be forgotten," said Summer. "This name ensured that wouldn't happen."
Anglers can still register to compete in ChaseN'Tailz from now through Sept. 6 at the Captain's Meeting. To learn more and donate, visit chasentailz.com.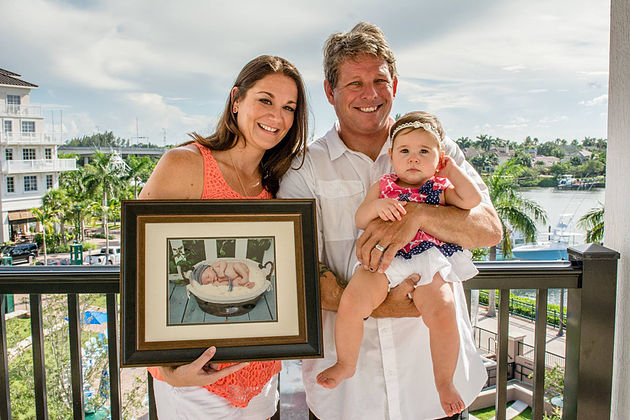 The Warren family.