It was an exciting weekend for the Liquid Fire Fishing Team, who competed in back-to-back fishing tournaments – ultimately nabbing both a 2nd and 6th place finish. These finishes catapulted the team into 3rd place overall in the Kingfish Cup series, with one tournament to go in the battle for the "Team of the Year" title.
On Friday, Oct. 19, Captain Mark Henderson, with wife Audrey, sons Crockett and Joshua and brother-in-law Chris Waters, began their weekend early at the Swansboro Rotary Five-O King Mackerel Tournament in Swansboro, N.C. – angling against 49 other boats for a chance at one or more of 10 cash prizes.
After catching a 41.28-pound King Mackerel, the Liquid Fire Fishing Team solidified their standing on the leaderboard as second overall, second heaviest on Day 1, second heaviest King Mackerel overall and second overall High Roller. The team was presented with a check for $21,667.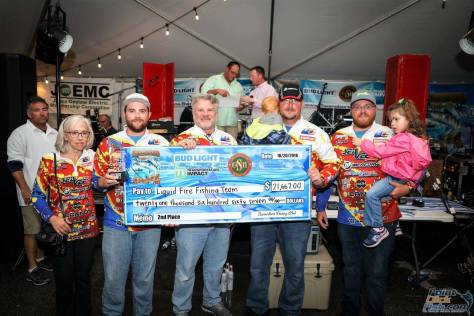 "The Swansboro Rotary Five-0 has been a very good event to our team since its inception," said Mark, who started competitively fishing in 2004. "It's a huge event for the community and a high-profile event for sport. The competition in the event is very high, and some of the best fishing teams in the country participate. It's an honor to be able to compete in this amazing event; and to be on the leaderboard is definitely exciting."
But instead of basking in their 2ndplace finish in Swansboro, team Liquid Fire hauled their Sea Vee 390Z out of the water to their next competition – the Rumble in the Jungle King Mackerel Tournamentin North Myrtle Beach, S.C.
Up against a whopping 155 boats, the Liquid Fire Fishing Team reeled in a solid 6thplace finish with a 34.70-pound King Mackerel – earning the team a check for $11,001.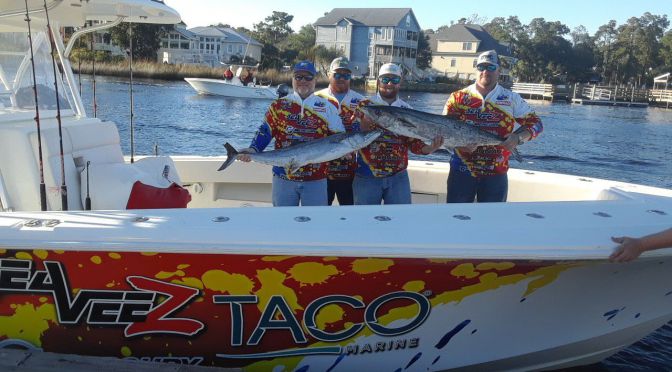 "Fishing this event definitely made for an exciting and challenging weekend," Mark continued. "This event was over 100 miles away from the other event we participated in. We were up at 2 a.m. to be ready for the 6:30 a.m. checkout. This is a hard-fought, high-paying king mackerel tournament with some tremendous competitors. It was nice to get a solid fish, be on the leaderboard and help our position in qualifying for the Kingfish Cup championship."
Rumble in the Jungle was the third installment toward this year's Kingfish Cup – a limited-entry series with four qualifying events toward the invitation-only championship tournament, which is taking place Nov. 1 through 4.
Because of Liquid's Fire 6thplace finish at Rumble in the Jungle, their series average for the Kingfish Cup is 83.73, landing them in 3rdplace overall with just one more qualifying event to go – the Ocean Isle Fishing Center's annual Fall Brawl in Ocean Isle Beach, N.C. this weekend.
"It was a great weekend," reflected Mark. "The inconsistent weather this year, combined with Hurricane Florence, pushed a lot of events on top of each other because of postponements. Having to fish numerous events on the same weekend certainly isn't the most ideal circumstance. However, it worked out well for us. But we were definitely tired Sunday night. We've got several more events before the season ends. We'll keep working hard to perform the best we can."
As a long-time sponsor of the Liquid Fire Fishing Team, which uses our Pro Series GS-500 Outrigger Mounts and Carbon Fiber Tele-Outrigger Poles, we're proud of the success of Captain Mark, Audrey, Crockett, Joshua and Chris. We wish them luck in this weekend's Fall Brawl and next weekend's Kingfish Cup!
Stay up to date on all things Liquid Fire by following them on Facebook and Instagram. We'll also post updates to our TACO Marine Facebook, Instagram and Twitter.