We're exhibiting in booth 1433 at the 2018 IBEX Show in Tampa, Florida Oct. 2 – 4. IBEX is the largest marine industry trade event in North America, specializing in boat building, design, repair, maintenance and new product innovation.
This year, we will showcase the latest products across our core categories in Rub Rail, Sport Fishing equipment, Seating & Pedestals, including the new Sport Helm Chairs, LED Lighting, specialty hardware and our expanded line of Ratchet Hinges.
Additionally, we are displaying several new products, including the Boca Sport Helm Chair, Canvas Sun Shade Poles, Flex Chrome Rub Rails, Ratchet Hinges and our new Pro Series Grand Slam Mounts and Carbon Fiber Poles.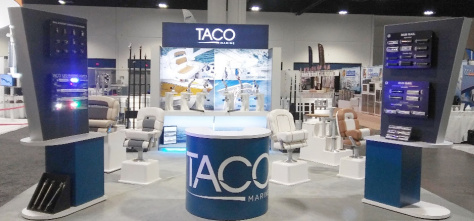 We're exhibiting at IBEX in booth 1433 in Tampa, Florida Oct. 2 – 4.
As a family-owned and operated company that has been in business for nearly 60 years, we're proud to continually meet the demands of an ever-changing market by providing full service solutions from design, engineering and manufacturing to inventory management and J.I.T. Delivery.
For more information on all our TACO products, visit our Web site tacomarine.comand follow us on Facebook, Twitter, Instagramand YouTube.