Wouldn't it be nice to easily carry all your "gear" on board in one convenient bag by throwing your tackle, towels, phone and everything else into one convenient carry-on bag? If you have purchased a TACO MARINE leaning post, you know how handy the TACO MARINE Neptune Tackle Storage Bag is – because it's  included in the purchase of a TACO MARINE leaning post. Because these storage bags have been so popular with boaters, they can now be purchased separately.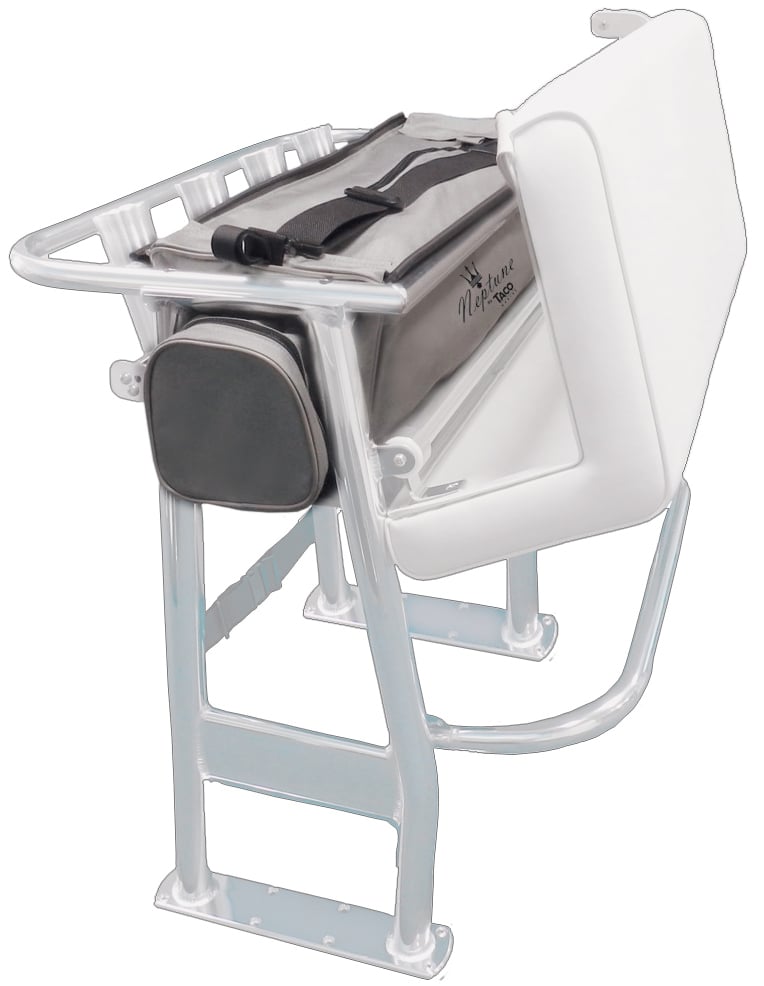 The handy Neptune Tackle Storage Bag fits right under the leaning post. On the inside of the bag,  the main center compartment is 28" wide which will hold a wide variety of tackle trays. In addition the main compartment has one 28" long side pocket which will be ideal for pliers, crimpers, fillet knives, sharpening stones, de-hookers etc. as well as two side pockets for gloves towels, sunglasses sun block, hat or visor, cell phones, portable GPS or back up portable VHF and wallets. On the outside of the bag there are two side round pockets with drain holes and double zippers for easy access. These pockets were designed to hold 5 spools of fluorocarbon leader on each side. Overall the Neptune Tackle Storage Bag offers an enormous amount of storage compared to other tackle bags on the market today. It's great for boats with a standard 30" center compartment which are typically found on boats up to 25ft.
The waterproof bottom of the Neptune Tackle Storage Bag is made from a ballistic nylon. The water resistant 1000 denier fabric and marine grade YKK zippers are designed for longevity and performance. This durable bag will hold up to 75 LBS of tackle and gear with a wide snap on shoulder carrying strap to transport to and from the boat. For more specifications about the Neptune Tackle Storage Bag, click here.