Joaquin strengthens; heavy rainfall and flash flooding possible for parts of East Coast regardless of track.
Close to 12″ of additional rain from Joaquin could hit the Carolinas and parts of the East Coast. Many portions of the eastern U.S. are currently experiencing heavy rains and gusty winds associated with a frontal system. These heavy rains are likely to continue for the next few days, even if the center of Joaquin stays offshore. The resulting inland flood potential could complicate preparations for Joaquin should it head toward the coast, and even more substantial inland flooding is possible.
As of 4pm EDT Thursday, October 1st: Forecast Track for Hurricane Joaquin from the National Hurricane Center.  Maximum sustained winds have increased to near 130 mph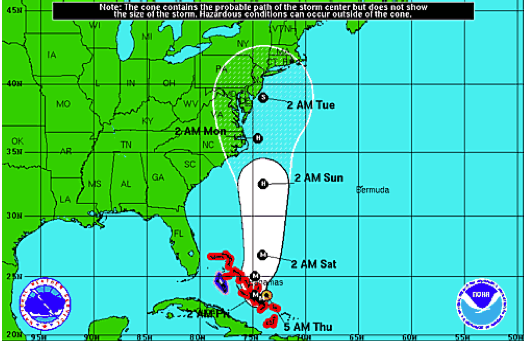 T
The safety information below is courtesy of BoatU.S. Marine Insurance.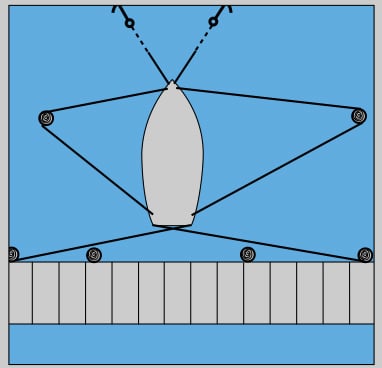 A sample storm arrangement: note the spring lines, which were the longest lines, are now the shortest. Stern lines are extended one or two slips away. Additional bow lines lead across to the next dock or to storm anchors placed out from the slip.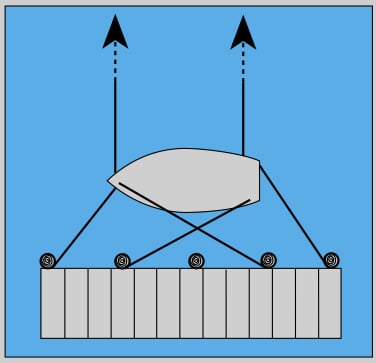 On a face dock, position the boat farther (the farther, the better) than usual from the dock and add offshore lines to hold the boat away from the dock. Offshore lines can lead to distant pilings or trees, such as across a canal, or to anchors if the bottom provides adequate holding.
Click here for tips for securing your boat ashore.