As an industry leader, you may know TACO Marine has long been the preferred choice of boat builders for Rub Rail designed to meet their specific needs. However, we also offer easy-to-install Vinyl Rub Rail Kits – ideal for do-it-yourselfers and boaters looking for an affordable solution to spruce up the look and value of their boat.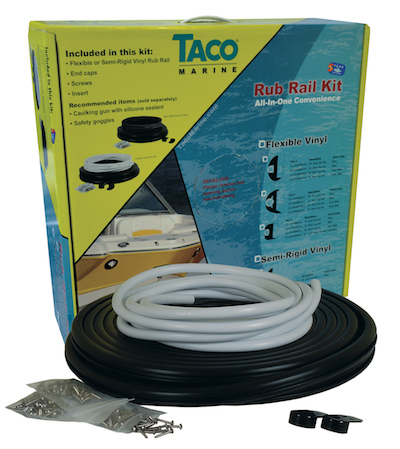 Our made-in-the-USA Vinyl Rub Rail Kits come in a wide variety of sizes to fit all types of boats from 16- to 30-feet in length. Each kit includes a roll of seamless Rub Rail, matching insert, end caps, stainless steel screws and an installation guide.
The guide, along with a how-to video, are available for free online at tacomarine.com.
In addition to our Vinyl Rub Rail Kits, we also offer a free Rub Rail Replacement Selection Guide if you prefer to try and match the original Rub Rail installed on your specific boat.
At TACO Marine, all our Rub Rail is backed by our exclusive 5-year warranty and guarantied to perform for many years to come. If you're not sure which Rub Rail Kit is the right fit for your boat, please give us a call at 1-800-653-8567 and we can help you. You can find TACO Marine Rub Rail and our Vinyl Rub Rail Kits online or through your favorite marine dealer, including West Marine and Bass Pro Shops.
Please visit tacomarine.com for a complete listing.