5 Last Minute Gift Ideas for the Boater in Your Life.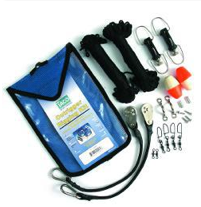 1. Rigging Kits: With 4 kits to choose from, one of these could make an excellent choice for stuffing Santa's  stocking hanging from the hearth. Depending on the kit, they could include quality release clips, shock cord w/stainless steel snaps and pulley, barrel swivels, snap swivels, crimps, stainless steel pad eyes, balsa wood floats and screws, UV protected dacron line. All packaged in a durable blue marine mesh bag. Click Rigging Kits to find out more info, here for where to buy, 
2. Drink Holders: Santa has 1or 2 drink holder styles which hold full-sized insulated drinks and mugs. Stainless steel mounting screws are provided for flat or bulkhead mounting, and some drink holders comes with cup suction.
.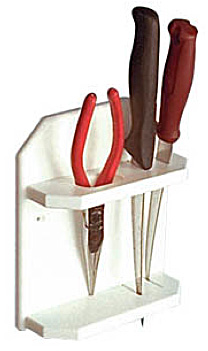 3. Fishing Plier & Knife Holder: Santa-safe and convenient, it holds a pair of pliers and two knives. The white UV-stabilized polyethylene material resists sun damage and includes stainless steel mounting screw.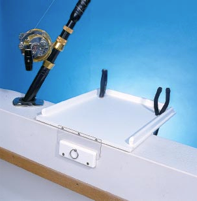 4. Removable Bait & Filet Board: This handy filet board can be attached in just seconds, stores flat and includes everything needed for mounting. It holds a knife and pliers and its heavy-duty, UV-stabilized polyethylene construction resists the harsh marine environment and reindeer horns.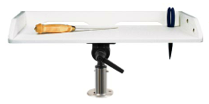 5. Adjustable Poly Filet Table:  TACO MARINE'S filet tables have an adjustable tilt and fit into any rod holder. These FDA approved tables are made from UV-stabilized, high density polyethylene – it may not fit in a stocking, but it easily slides down a chimney.
Be sure to contact the dealer/store, (like Bass Pro shops, West Marine and your local dealers), to confirm they have the item you want in stock, as Santa's elves are gathering them up quickly.