[caption id="attachment_1118" align="alignright" width="236"]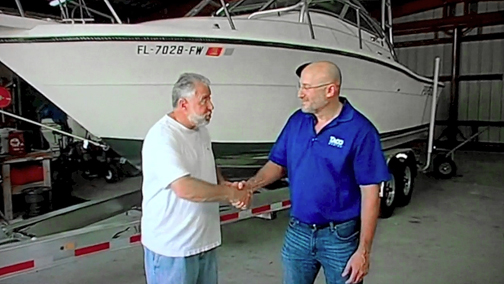 Ship Shape TV Host John Greviskis with Taco Marine President Jon Kushner[/caption]
We're excited about the Taco Marine Project Boat, so much so we have devoted a separate website/blog just for it.
It will have short videos and graphics with a show-and-tell approach of how we, with Ship Shape TV, are updating a 1989 Pursuit 2650 boat to 2016 standards. If you are a DIY kind of person, or just like to watch old to new transformations, join us at our Taco Marine Project Boat site and learn handy fix-it tips along the way.
Make sure you click the "follow " button (see upper red arrow below),
so it alerts you when a new page is posted, (about once every week or two): 
http://tacomarineprojectboat.com
When you go to the Taco Marine Project Boat blog, the latest posting is in the main page area and the previous episodes/parts are listed in order in the right column

(see lower red arrow).